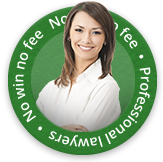 Individuals who contract an infection or blood-borne virus as a result of a needlestick injury may face devastating consequences to their general health and wellbeing.
Those people who avoid infection may still undergo a high level of stress and anxiety as a result of worrying about the possibility of an infection.
Free initial discussion
For a no-obligation chat with one of our friendly team members please call 0800 808 9740 or get in touch online.
Needlestick injuries
A needlestick injury occurs when a sharp object such as a knife, needle or scalpel penetrates the skin. The blood, tenderness and swelling at the site of the injury are the most apparent risks when this incident occurs. However, the more serious long-term consequences arise if the injury was caused by a utensil that has been contaminated with the blood of an infected person. It is possible for this to occur in any location, but it much more likely to happen at a clinical site due to the high volume of these sharp instruments being used.
Cleaners, healthcare workers, police and prison officers, and those who discard waste are generally at a much higher risk of suffering a needlestick injury. However, exposure is also possible in public places such as toilets and parks. Needles should be carefully disposed of in biohazard bins in order to avoid this type of injury. Unfortunately, many injuries occur because needles are sometimes left out carelessly.
As well as compensating you for stress and negligence, our solicitors will work to cover any financial losses that you may have incurred, such as:
The costs of any specialist treatment required
Loss of earnings (for any time off due to recovery/treatment)
You may not be entitled to compensation if the injury was your own fault. However, you do have the right to claim if the injury happened at work due to no fault of your own.
Needlestick injuries resulting from clinical negligence
All medical organisations in the United Kingdom are legally obliged to implement rigorous policies for safe storage or disposal of all medical devices/instruments used. This involves any needles used and other sharp tools. Every year, however, countless needlestick injuries are recorded. A high percentage of these injuries occur in the operating theatre, in the ward for accidents and emergencies, and during some of the clinical operations conducted in these wards.
Needles and other sharp utensils present a danger to anyone who accidentally comes into touch with them when they are treated carelessly or are not disposed of properly.
You may be able to claim whether you are a health care professional or a hospital patient. To assess your legal options for claiming compensation, contact our expert personal injury lawyers.
How can I claim?
We recommend contacting a solicitor who specialises in personal injury and clinical negligence if you believe that you have a claim.
At First Personal Injury our expert team of solicitors will walk you through the entire legal process step-by-step. We understand that it can be difficult to make a claim whilst dealing with the stress associated with a needlestick injury. However, we are confident that we can help and usually operate on a no win, no fee basis to alleviate our clients of taking any financial risk.
If you would like to discuss a potential claim please call us on 0800 808 9740 or get in touch online via our website.