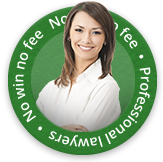 You might not associate injuries or accidents with working in the office in the same way as you might with a construction site, factory, or warehouse. However, office injuries are more common than you would think. In fact, many office accidents result in serious injuries.
Common Accidents in the Office Workplace
Slips trips and falls
Slips, trips and falls are common workplace injuries which result in broken bones, fractures, and dislocated limbs. Generally, they're the result of files or boxes in pathways where people walk and are not expecting obstructions. Tripping accidents can also occur when a carpet has not been laid correctly.
Falls from improvised ladders are another common cause of injuries. People sometimes use chairs (on wheels), boxes, and tables when a regular ladder or step stool isn't available, and fractured ankles or other similar injuries can occur as a result.
Slips can occur on wet surfaces that have not been cleaned and dried properly or when warning signs are not displayed.
Repetitive strain injuries
Repetitive Strain Injuries (sometimes called upper-limb related disorders) are those which cause pain in the wrists, arms, neck and back for office workers who are required to carry out repetitive typing or manual tasks, without adequate breaks or correct workstation assessments
Electrical accidents
Electrical accidents can happen in kitchens used by office workers. For example, you may be electrocuted from a faulty toaster that has not been PAT tested.
Alternatively, exposed cables lying around can pose another electrocution risk as well as a tripping hazard in the office
Lifting accidents
Lifting can cause back problems if not done correctly. For instance, you could pick up a heavy box of stationery and pull a muscle in your back
What Does My Employer Need To Do To Prevent Injuries In The Office?
Your employer, like all other employers, is legally obliged to make sure they are complying with health and safety measures designed to provide maximum safety in the office.
The Health and Safety Executive has strict guidelines which employers must adhere to in order to ensure the safety of their employees. If these are not followed, they can be deemed responsible for injuries in the office.
If you have been unable to work or carry on doing your previous job because of your injury, you could be entitled to make a claim.
Time limits do apply for most personal injury claims so it is advisable to speak to an accident injury lawyer as soon as possible.
Seeking Treatment
After an office accident, it is essential that you seek medical treatment immediately to minimise the effects of your injuries. You may think your injuries are minor but x-rays and other tests may show damages you weren't aware of. Also, you may have internal injuries which require treatment.
Office injuries can cause cuts, bruises, sprains, and broken limbs. You may need physiotherapy or surgery to treat your injuries. Your pain can last from minutes to months, and some pain can linger for years after the injury.
Documenting Injuries
In the event of an office injury, make sure you record your accident in the Accident Log, which is the formal complaint log for your employer. Even if you don't end up filing a claim for compensation, you are required to document the work accident for your employer's records. This documentation serves as a reminder for your employer and co-workers to resolve any unattended or unresolved hazards.
Both employees and employers are responsible for keeping your workplace safe for employees, contractors and customers. It is also a good idea for you and your co-workers to ask for training for activities that have more risk of injury, like lifting heavy boxes or using a utility knife to cut open packages.
Contacting a Solicitor
If you've been injured because of an accident in an office, contact a solicitor for advice. You may be eligible to file a claim for monetary damages. There are time limits for making a personal injury claim, so it is essential that you contact a lawyer as soon as possible.
Your solicitor will determine if you have a valid claim based on the information you provide about the accident. It's very important that you document your injuries and the details of the accident immediately, while the information is still fresh in your mind. The longer you wait to record the details, the more you will forget. This is also a great time to contact witnesses and have them write down their memories of the incident. The more people you have who can substantiate your version of events, the better.
Talking you through the claims process
Once your solicitor has determined that you have a valid personal injury claim, they will begin to walk you through the claims process. They will also answer any questions you may have about your claim and how much compensation you could receive. The claims process and the amount of compensation you may receive will depend on the type of injury you have sustained. It will also depend on the treatment and costs required to aid your recovery. Whether or not your employer's insurance company disputes the merits of your claim will also affect your claim.
An experienced personal injury solicitor will help you navigate the complex legal process surrounding accidents in the office. They'll make the process as smooth as possible for you. Although people don't think of office accidents as being common, injuries acquired in the workplace can have devastating effects. By having a specialist personal injury lawyer behind you will be more likely to receive fair compensation for your injuries.
The process of claiming compensation following an injury can be both lengthy and complex. However, with the help of an experienced personal injury solicitor, the experience will be less daunting and you can focus on regaining your health.