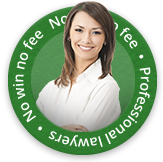 Considering making an asbestosis compensation claim?
Asbestos is a deadly material used in many industries, including the building trade, which is now banned. However, while the dangers of asbestos were recognised in the 1990s, it continued to be used heavily in the twentieth century, and often without the appropriate safety precautions in place.
Asbestos is known to cause a variety of illnesses including pleural thickening, lung cancer and mesothelioma, but asbestosis is perhaps the most debilitating due to its devastating long-term effects.
If you have suffered asbestosis as a result of your employer's negligence, the asbestos solicitors at First Personal Injury can help you to seek compensation – even if you no longer work for them, or if the company no longer exists.
Call our team of experts on 0800 808 9740 or contact us online to request a free call-back.
Causes and symptoms of asbestosis
Asbestosis is an irreversible lung disease that occurs after a person inhales large quantities of asbestos dust or fibres. Nowadays, health and safety regulations for handling asbestos now stipulate, amongst other things, that individuals must wear a mask over their mouth and nose.
Unfortunately, in the past, asbestos was frequently handed without such protective measures, causing people working with the material to breathe in the fibres. When this occurs, fibrous tissue develops in the lungs, causing scarring and accompanying chest pain.
The symptoms of asbestosis can take as long as 20-30 years to develop. Sufferers will find that their breathing becomes noisy and crackly or they may find it hard to breathe. In the early stages of the disease, this will only happen after exercise, but as the asbestosis progresses, breathing will become difficult even when sitting still.
Other physical symptoms include 'finger clubbing', where the fingers become red and swollen, making everyday tasks painful and difficult to carry out.
Am I at risk of asbestosis?
Plumbers, laggers, construction and demolition workers are most at risk of suffering from asbestosis. If you think you have any of the symptoms of asbestosis and you have been exposed to asbestos in your current or previous employment, you should visit your GP.
If they believe there is a possibility of GP they will refer you to a chest consultant who will usually carry out an x-ray or a CT scan. However, because other conditions look similar on an x-ray to asbestosis, your history of asbestos exposure will need to be considered before you are diagnosed with the condition.
Effects of asbestosis
Illnesses like asbestosis become completely debilitating – especially as the disease will get progressively worse over your lifetime. In some cases, it can sadly lead to more serious illnesses like mesothelioma.
You may be forced to give up work before your retirement age and will likely require lifelong medical care. There will need to be changes made to your lifestyle and your life expectancy may indeed shorten as a direct result. Your situation may also mean that a family member has to give up a job to care for you.
Asbestos compensation claims
If you have received a diagnosis of asbestosis, it is possible that you could make a successful industrial illness compensation claim.
Sadly, compensation cannot change this or take away your diagnosis, but it can help to support you financially and alleviate monetary stress. It can also help pay for your medical bills and any changes to your life that you may need to make. Hopefully, compensation can also bring some comfort to the situation; particularly the psychological effects suffering from asbestosis can have on a person.
How First Personal Injury can help
If you have developed asbestosis as a result of unsafe working practices, you may be eligible to claim compensation in line with the pain and suffering you have gone through.
At First Personal Injury, we have a team of expert solicitors who specialise in industrial diseases – including asbestosis. They'll examine your case with full integrity and professionalism, fighting your corner to make sure you are awarded the compensation you deserve.
Contact our team of expert solicitors either online or by phone on 0800 808 9740 and one of our advisors will be in contact shortly.