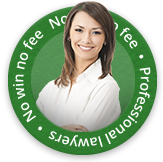 Statistics show that a growing number of people are having to make claims after developing latex allergies. Many professionals come into contact with the material, but those most often exposed to it are healthcare workers, car mechanics and caterers who all use latex gloves in the course of their daily work.
There are two types of latex allergy: Type I and Type IV. The first type is the more serious and in rare cases, individuals with a Type 1 latex allergy may suffer a fatal reaction. Symptoms of this type of allergy include hay fever and asthma, along with the extremely serious anaphylaxis, which is where blood pressure drops to a dangerously low level.

Great service, very happy with the quality of services provided, will definitely recommend and instruct again.
Raluca from Birmingham
See more testimonials
Those who suffer from the second type of latex allergy, Type IV, are unlikely to die from their allergy, although it may cause great discomfort. The main symptom of this reaction is an itchy rash on and around the area of contact, which, among workers, is most often the hands and lower arms. Unlike Type 1 allergies, which occur almost immediately, the symptoms of a Type IV allergy may not be seen for between six and 48 hours after the exposure.
However, most of those who have a reaction after coming into contact with latex do not have an allergy but they may be diagnosed with irritant contact dermatitis. Whilst it is not classed as an allergy, irritant contact dermatitis is just as uncomfortable for those who suffer from it.
If you suffer from any of the above you may be entitled to a compensation claim against your employer.
Have you had an accident? You could be entitled to compensation
If you've had an accident that wasn't your fault, you could be entitled to compensation. Our expert solicitors are waiting to hear from you to assess the validity of your claim.
Contact First Personal Injury to discuss your potential accident claim today on 0800 808 9740 or, alternatively, fill out our online form.