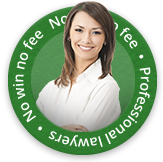 Mesothelioma is a type of cancer which is often caused by exposure to asbestos, and is sometimes known as 'asbestos cancer'.
If you ever worked in manufacturing industries such as building, shipbuilding, motoring, power stations or household appliance manufacturing you could have been dangerously exposed to asbestos.
Have you been diagnosed with mesothelioma?
Have you previously worked in an industry where you may have been exposed to asbestos?
You may be able to claim compensation for your illness.
Making a claim for mesothelioma
The symptoms of mesothelioma can take around 15 to 40 years to develop after you've been exposed to asbestos and you can claim for compensation within three years of being diagnosed. You might be unsure whether you have been affected by asbestos but if you have previously worked in an industrial environment and have the details of your employment, we'll help you with the rest.
If you've been diagnosed with cancer within the past three years, speak to one of our representatives today by phone on 0800 808 9740 or by the online claim form.
Perhaps you have a relative who has been diagnosed recently and you'd like to find out more on their behalf. We're happy to discuss this with you and will help you through the claims process to ensure your relative received the care and attention they require.
Specialised mesothelioma law firm
First Personal Injury has a specialised in-house team of injury lawyers. With over 20 years of experience, our team are always on hand to answer your questions or concerns about mesothelioma or asbestos compensation claims.
Having an illness like mesothelioma can have a huge impact on your life and we are always here to handle your compensation claim in a professional but personal manner.
Personal Injury Claims with First Personal Injury
First Personal Injury has built up a reputation across the United Kingdom for their approach to accident and personal injury claims. Working with members of the public who have had personal injuries, we continually exceed our clients' expectations.
Contact First Personal Injury's accident claims solicitors free today by calling 0800 808 9740 or by completing our online enquiry form.