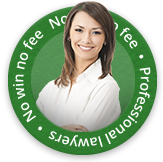 An estimated 170,000 people suffer from forms of Occupational  Respiratory disease and Industrial Asthma. The symptoms include breathing or lung problems which they believe to be work-related, although the true figure is likely to be significantly higher. The occupations with the highest incidents of Occupational Asthma, as reported to Chest Physicians, were Bakers, Flour Confectioners, Spray  Painters, and those in the welding trades.
What Is An Occupational Respiratory Disease?
An occupational respiratory disease is an injury leading to the loss of full lung function which can produce disability affecting physical performance. There are many types of respiratory disease including:-
Pneumoconiosis (including silicosis and asbestos)
Asthma
Emphysema
Chronic Obstructive Airways Disease

I was very happy with the service from First Personal Injury. I have already recommended you to a number of people and will continue to do so in the future.
Jason from Wiltshire
See more testimonials
Have you had an accident? You could be entitled to compensation
If you've had an accident that wasn't your fault, you could be entitled to compensation. Our expert solicitors are waiting to hear from you to assess the validity of your claim.
Contact First Personal Injury to discuss your potential accident claim today on 0800 808 9740 or, alternatively, fill out our online form.