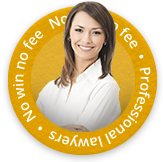 At First Personal Injury, our personal injury solicitors are specialists in injury compensation which includes painful and distressing knee damage. A knee injury can come about as the result of a variety of different accidents, whether that's trips and falls, a workplace incident or a serious car crash. In some cases, this may cause excruciating pain and a lack of mobility for a certain amount of time, as well as having a damaging impact on your financial stability if you have to take time off work. This is where we come in – we will look into your case and fight for the financial coverage you deserve, helping you through the long and stressful recovery process.
Types of knee injury
The knee is an area of the body which is often injured because it takes your whole body weight, as well as additional force when you engage in any physical activity. It is made up of four joints, including several ligaments and two types of cartilage – when an injury occurs, the likelihood is that more than one of these structures will be damaged. Many of us will be affected by a knee injury to some extent over the course of our lives, yet it's important to understand whether it involves negligence through the fault of someone else.
Types of knee injury are usually distinguished in the following ways:
Sprain or strain – this is the most common type of knee injury and pain is usually caused when the tissue around the area has stretched. This could be the result of overworking the joint, or if you have been involved in more activity than usual.
Anterior knee pain – this involves an ache around the kneecap area, at the front of the knee, and usually occurs because of muscle weakness or the overuse of the knee.
Cartilage or menisci damage – menisci is the tissue which protects the bone from impact and it can be easily torn after a sudden twisting movement occurs. Cartilage is also responsible for cushioning the knee, but can be damaged in the same way which can be very painful and is usually accompanied by swelling.
Tendonitis – this is often the result of overusing the tendon which attaches the kneecap to the shin, forming an inflammation of the area and resulting in pain or tenderness.
Bursitis – usually involves a repetitive movement on the knee, such as bending or kneeling which creates a build-up of fluid which eventually causes damage and pain.
Torn ligament or tendon – ligaments and tendons are the tissues that combine bones with the knee joint and muscles, and they are often disrupted or torn during sporting activity. This can become quite severe in the sense that surgery may be recommended in order to repair the damage.
Haemarthrosis – otherwise known as bleeding into the joint, this occurs when a severe ligament is torn or a bone is broken around the knee area. This is a more serious case of knee injury and surgery could be involved to solve the problem.
What compensation will I receive?
Depending on the level of severity, compensation settlements for knee injury claims range from £1,000 up to £70,000. We understand the ordeal may affect your daily life in a number of ways including, difficulty walking, uncomfortable living arrangements, time off work, financial loss and painful medical treatment. You may also have to complete a number of physiotherapy sessions for months following your accident.
If you think you may have grounds to file a claim or even if you need to discuss a possible incident, our expert personal injury solicitors are committed to finding out who is legally at fault or responsible for your misfortune. Call us on our helpline today 0800 808 9740 or fill out an online injury claim form and one of our advisors will be in contact shortly.
If you have suffered a knee injury in the workplace which was not your fault you should consult a personal injury lawyer who will be able to advise you whether a personal injury claim is appropriate in your case.
Personal Injury Claims with First Personal Injury
First Personal Injury has built up a reputation across the United Kingdom for their approach to accident and personal injury claims. Working with members of the public who have had personal injuries, we continually exceed our clients' expectations.
Contact First Personal Injury's accident claims solicitors free today by calling 0800 808 9740 or by completing our online enquiry form.