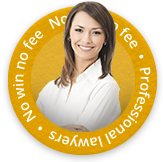 Legs are responsible for our day-to-day movement, so if you happen to have been in an accident a leg injury can become detrimental to your everyday life. Depending on the severity of the injury, you could be eligible to claim compensation for the pain and suffering you have been through.
Over the years, our solicitors at First Personal Injury have helped many people claim leg injury compensation and are committed to giving the best possible legal advice. It's our job to ease the recovery process, fighting for the compensation you're entitled to and helping you move forward with your life.
Types of leg injury compensation can be claimed for
There are various cases of leg injury that may qualify for a settlement. The consequences of this type of incident can also have an impact on your psychological health, meaning the rehabilitation period could be elongated for many months, or even years after. The structure of the human leg involves the thigh bone (femur), kneecap (patella) and shin bones (tibia and fibula), meaning there are several types of fractures and breaks to the leg. Some varieties of leg damage include:
Stress or strain fractures – pain is caused by a small, hairline crack on the bone as a result of constant pressure in the area. This could be due to a high-impact shock or constant compression over a period of time.
Displaced fracture – this occurs when the broken ends of the bone do not align, meaning they are displaced and it usually involves a surgical procedure to repair.
Transverse fracture – this fracture usually occurs when the break is at a right angle and horizontal across the bone, resulting in an unstable structure.
Oblique fracture – when the fracture appears as a diagonal break or curve across the bone and is most likely to be unstable, meaning the bones are separated from each other.
Comminuted or compound fracture – one of the most serious injuries in the leg and is normally when the bone has been crushed or shattered in three or more places. It can also mean the bone breaks through tissues and is penetrating the skin. This type of injury ends up being very unstable and surgery will be required to repair the damage.
Other fractures – these include a pathologic fracture from diseased bone, a buckled fracture which is a result of two bones pushing against each other and an avulsion fracture, which occurs if a piece of bone comes away from the main bone structure.
The painful rehabilitation process may involve time off work and countless physiotherapy sessions, which can have a huge impact on daily activities and financial loss. Unfortunately, some cases can be so severe that amputation may be required, including the potential need for prosthetics. This level of trauma is life-changing, so a large sum of compensation will be a step in the right direction in order to improve your quality of life.
How much compensation am I entitled to receive?
Amounts of compensation settlements will take into account a number of factors including, how long your injury takes to heal, the medical procedures you have undergone and any ongoing symptoms or permanent disability that may have come from the injury. Minor cases could result in claims of up to around £7,000 and those involved in some of the worst accidents could settle an amount between £80,000 and £210,000.
If you have been involved in an accident and feel you may be entitled to compensation, our team of professional solicitors at First Personal Injury can fight your case on your behalf. We understand this type of injury can have a damaging effect on your life, so we will aim to fight for the settlement you deserve. Get in touch today to discuss your case on 0800 808 9740 or alternatively, fill out an online injury claim form and one of our advisors will be in touch with you shortly.

Communication was open and I knew what was happening every step of the way.
Christine from Manchester
See more testimonials
Beginning A Leg Injury Claim With First Personal Injury
You can have a leg injury in the workplace e.g. a crushing injury caused by heavy machinery or you could be injured in a physical assault or a car accident.
If your accident happened due to someone else's negligence then it could be possible to start a personal injury compensation claim. The blame must be provable in order for your claim to be successful. First Personal Injury is highly skilled and experienced in winning leg injury compensation cases.
You have 3 years from the date of knowledge of your injury in which you can pursue compensation. Please get in touch with First Personal Injury to gain some initial advice on your specific circumstances. Call us on 0800 808 9740.
Personal Injury Claims with First Personal Injury
First Personal Injury has built up a reputation across the United Kingdom for their approach to accident and personal injury claims. Working with members of the public who have had personal injuries, we continually exceed our clients' expectations.
Contact First Personal Injury's accident claims solicitors free today by calling 0800 808 9740 or by completing our online enquiry form.