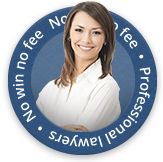 Considering making a car accident compensation claim?
With an ever-increasing number of road users, driving has become more and more dangerous. While you may be a careful and conscientious driver, others may not take as much care, increasing your chances of being involved in a car accident through no fault of your own.
If you or a loved one is a driver who has been injured due to a car accident caused by someone else's negligent behaviour, you may be eligible to make a personal injury claim. The compensation awarded would help with medical expenses, loss of earnings, costs incurred by your injuries, as well as going some way to compensating for the injury, bringing some form of closure and comfort to the incident.
The expert team of road traffic accident solicitors at First Personal Injury will be able to assess your right to make a claim and guide you through the whole process on a no win no fee basis.
Common car accident injuries
Even minor "bumps" in the car can cause injuries to you and any passengers, potentially requiring medical attention or time off work. Soft tissue injuries such as whiplash can leave you in pain, feeling sore and stiff – with these symptoms potentially deteriorating over time. If the accident is more serious, clients can expect a higher compensation pay-out.
Some of the most frequent car accident injuries include:

Fractured bones
Broken bones
Injuries to victim's internal organs
Car accident related injuries can have a lasting negative impact on your life, forcing you to take long-term sick leave or give up your job entirely. They can require long-term medical care, changes to your home and lifestyle and can affect relationships with close ones, whether with your family or friends.
Compensation can't undo the injuries or reverse the accident, but it can give you the means to recoup lost income, pay for medical treatment and rehabilitation and make the necessary adjustments to your home in order to get you on the road to recovery while helping you regain control of your life.
How First Personal Injury can help
Once you contact First Personal Injury, our team of expert road traffic accident solicitors will assess if you are eligible to claim compensation. If you are, and you decide to proceed with your car accident claim, our friendly and understanding team will be with you every step of the way, committed to getting you your full compensation entitlement.
We'll examine every aspect of your case including the cause of the car accident and how it has impacted your life to ensure that your compensation is representative.
Other accidents on the road
At First Personal Injury, we deal with a broad range of road traffic accidents, as well as car accidents, including:

Fatal cycling accidents
Cycling accidents in sport
Pothole accidents
Public transport accidents
Make a car accident compensation claim
If you have been in a car accident that was not your fault, or someone you care about has been injured, you may be eligible to claim compensation. Call our specialist team on 0800 808 9740 for an initial assessment of your case, or complete our online enquiry form and one of our advisors will be in contact shortly.