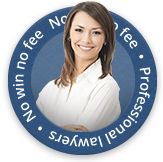 Looking To Claim For Taxi Accident Compensation?
Taxis are a popular mode of transport throughout the UK. Every day thousands of people use a range of taxis and private hire vehicles (PHV) to commute. However, taxis often transport multiple passengers which can result in several passengers sustaining a range of minor to severe injuries.
If you were injured in an accident as a passenger in a taxi, you may have the right to make an accident claim.
Do I have a claim?
If you've received an injury as the result of a taxi accident, you may have a claim.
Have you been involved in a road accident that wasn't your fault?
Were you travelling in a taxi or private hire car during the time of the incident?
Was the accident caused by the fault of the taxi driver or another road user?

Great service, very professional and polite manners.
Kinga from Newcastle
See more testimonials
What should I do?
At the scene of the accident or shortly after, you should try to collect as much of the following information as possible.
Names and addresses of involved parties
Any company names and registrations of involved taxis or other vehicles
Contact details of anyone who witnessed the accident
These details will help validate your taxi accident compensation claim, to find out more call us on 0800 014 1629.
Claiming For Other Types Of Accidents On The Road
We deal with a wide range of road traffic accident types, some of which are listed below:
I want to claim compensation
Make your claim today by calling us on 0800 808 9740 or completing our online form.
By making a claim with First Personal Injury, our highly experienced road accident lawyers will ensure your claim is handled professionally and that you gain the personal injury compensation you are entitled to.
Make An Accident Compensation Claim
If you or someone you know has been in an accident they may be entitled to injury compensation. Our expert personal injury lawyers are able to help with your potential accident compensation claims.
Get in touch by calling 0800 808 9740 or by filling out our online form.