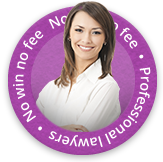 Amputation claims are the kind requiring the skill and expertise of a qualified personal injury lawyer. A trained eye will be needed to assess the level of compensation essential for you to live as independent a life as possible.
A lot of amputees will need specialist care for the rest of their lives so it is important to consider the future and all implication in an amputation claim.
Reasons For Amputation Claims
An amputation claim can arise from a number of very different circumstances, some of which are detailed below:
Medical or clinical negligence e.g. a delay in diagnosing an infection in the leg
A catastrophic accident at work e.g. involving fault machinery
Car accidents involving passengers and drivers, pedestrians
Motorcycle accidents

To everyone at First Personal Injury, I thank you all for all the hard work that you have put into my claim.
Terry from Coventry
See more testimonials
Long-Term Consequences Of Leg Amputation
Some of the immediate and disabling implications of a single or double limb amputation are simple to understand, however, there are some other long-term symptoms which also affect people who have had an amputation:
Phantom limb sensation
Stiffening and swelling
Soft tissue damage due to lack of blood supply
Persistent nerve pain
Psychological damage including depression and/or anxiety
Sleep disturbance
The level of pain and loss of amenity related to any of these symptoms will be factored into your compensation amount as well as the loss of earnings and medical expenses you have had to pay for e.g. for the adaptation of your home.
Claiming For Amputation
If you have had a traumatic amputation or have had to have a limb amputated because of a medical mistake then you could potentially make a compensation claim. It could be the fault of your employer who has not carried out routine health and safety checks on machinery used in the workplace.
It could be a driver of another vehicle that collided with yours in a road traffic accident, or it could be a doctor who has made a wrong diagnosis which has resulted in having your limb amputated.
Some amputation claims can be complex and require the assistance of a personal injury lawyer qualified in all aspects of compensation claims. At First Personal Injury we believe we have the knowledge and expertise you will need to make a successful claim for compensation. Please get in touch today and tell us more about your case. Call us on 0800 808 9740 or make an online enquiry.