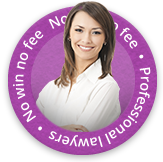 Myofascial pain syndrome is a type of chronic pain condition, which affects the muscles and soft tissues in the body. It is caused by damage to the fascia, the layers of connective tissue that surround and protect our muscles.
If you are suffering from myofascial pain syndrome following an accident or another kind of third-party negligence, you may be entitled to claim compensation.
Contact the lawyers at First Personal Injury today to find out if you could claim on 0800 808 9740.
Symptoms of myofascial pain syndrome
Myofascial pain syndrome affects the body's soft tissue and may involve individual muscles or muscle groups. The condition usually involves muscle pain with specific 'trigger points' which can often be felt as a knot beneath the skin and are tender to touch. When these points are touched, individuals often feel pain in other parts of the body. Common symptoms include:
Muscle pain
Tenderness
Spasms
Difficulty sleeping due to pain
Associated depression and behavioural disturbances
What causes myofascial pain syndrome?
It usually occurs through strain or injury to a muscle, ligament or tendon, often the consequence of an accident or surgery.
Myofascial pain can also occur after a muscle has been contracted repetitively. This can be caused by repetitive motion used in jobs or hobbies. Sometimes, it can be caused by a lack of activity (e.g. having a broken arm in a sling).
The effects of myofascial pain syndrome
Living with chronic pain, including myofascial pain syndrome can have a debilitating effect on your day to day life. It may affect your ability to work, carry out day-to-day tasks and care for your family.
Myofascial pain syndrome compensation
If you are unable to work, you may find yourself in financial difficulty. Making a compensation claim for your myofascial pain syndrome can help to alleviate this burden. Not only will you be compensated for your pain and suffering, but if you have been unable to work, you will be able to claim for loss of earnings. A successful claim will also enable you to access specialist care and equipment to help your life easier and to help you properly manage your pain.
Every case is different so it is impossible to predict how much compensation you might receive. However, the figures below, based on previous settlements for chronic pain disorders, give an indication of how much your claim might be worth.
Severity of pain disorder

Potential compensation

Severe cases with significant, ongoing symptoms despite treatment. Your pain disorder will have an adverse effect on your ability to work and you are likely to require care/assistance.
£33,590 – £50,210
Moderate cases where symptoms are ongoing by less severe than above and the impact of the ability to work or carry out everyday tasks is less significant.

If a full or near complete recovery is made (or anticipated) after symptoms have persisted for a number of years, expected compensation will be towards the bottom end of the bracket opposite.

If you were vulnerable to the development of a pain disorder within a few years, your compensation will likely also fall within this bracket.

£16,800 – £30,690
Claiming for myofascial pain syndrome with First Personal Injury
If you have experienced myofascial pain as a result of an accident or injury caused by the negligence of a third party, our solicitors may be able to help you. Call our friendly team for a no-obligation initial conversion about your condition today on 0800 808 9740. Alternatively, you can contact us online.