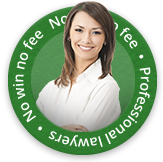 If you are looking to make a claim for a slip, trip or fall down stairs, we may be able to assist.
The lawyers at First Personal Injury are on-hand to discuss your potential claim. Call us on 0800 808 9740 or get in touch online.
Claims for falling down stairs
If you have taken a fall down any stairs or escalator and you believe it's due to somebody else's negligence, then First Personal Injury Lawyers may be able to help you bring a claim.
Causes of accidents on stairs
There are many reasons that can cause you to slip, trip or fall down a flight of stairs. Some of the most common reasons we come across are:
Wet or slippery steps
Worn carpets
Polished tiles
Items left on the stairs or escalator
Snow or ice on outdoor stairs
The construction of the stairs can also be a causing factor leading to injuries, particularly if the construction is not in line with UK standards. These include failure to fit a handrail when there should be one and ignoring regulations relating to the height and depth of steps.
Types of injuries
Often, tripping over steps is the main reason for an injury, however in the unfortunate circumstance of falling down a flight of stairs then resulting injuries can be potentially life-changing and, in rare instances, fatal.
Injuries commonly associated with accidents on stairs include:
Cuts and bruises
Sprains
Damage to the head, face and back
Fractured and broken bones
Whiplash and neck injuries
If the accident was caused due to somebody else's negligence, you may be entitled to claim compensation.
Who is responsible?
The responsibility for an injury depends on where the stairs are located, as both individuals and businesses are responsible for different types of property.
Accidents at work or in public can have far-reaching implications. Not only is there the physical pain and suffering, but there can be long-lasting effects.
Finding out who is liable for an accident isn't always straightforward. There are some criteria you must meet in order to make a successful personal injury claim:
The accident must be proven to be the fault of somebody else or there must have been a breach of duty.
The accident must have occurred within the past three years.
The type and extent of your resulting injuries must be confirmed by a medical professional.
Businesses have a duty of care to anyone who is in their premises but are not burdened by unrealistic expectations regarding safety. For example, if something is spilt and a wet floor sign is erected immediately but you then subsequently have an accident and slip, it could be judged that the company took all the reasonable steps to reduce the hazard and minimise risk.
Claiming compensation for falling down stairs
After an incident has occurred your health is the first priority. However, if the accident was caused by negligence or careless actions by a third party, you may be due compensation.
If you believe that you have a slip, trip or fall claim you should contact a personal injury lawyer as soon as possible.
First Personal Injury Lawyers have a team of no win no fee solicitors who are experts in dealing with all kinds of personal injury claims. We will guide you through the legal process quickly and simply while also getting you the result you deserve.
Contact First Personal Injury to discuss your claim today on 0800 808 9740 or, alternatively, fill out our online form.