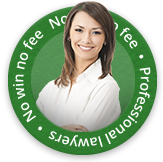 During the winter months, snow and ice can cause serious disruption. In some cases, this disruption can result in injury. While it is difficult to fully anticipate snow and ice, many people are injured due to another individual's unawareness of the potential hazards. Sometimes, falls and slips on snow and ice result in accidents that could have been prevented.
According to NHS figures, in 2017-18, more than 7,000 people were admitted to hospital in England following a fall on snow or ice, with people aged between 70 and 74 most at risk of injury.
Have you had a fall because of snow or ice that had not been properly cleared from a public area or pavement? If so, you may have a claim for compensation.
Contact our legal experts today on 0800 808 9740 to find out if you have grounds to claim.
Alternatively, complete our online claim form to arrange a call-back at a time that suits you. 
Slipped on an icy pavement?
In cold weather, icy pavements, driveways and paths that have not been gritted can be very dangerous. They are particularly hazardous to the elderly, children and people with disabilities. In some cases, a slip on an icy pavement can cause serious, long-term injuries.
Usually, pavements are the responsibility of the local council. Councils are legally obligated to ensure that pavements and other public walkways are in good condition and safe for members of the public to use. Under the Highways Act 1980, councils have a "duty to ensure, so far as is reasonably practicable, that safe passage along a highway" (or pavement) "is not endangered by snow or ice".
In cold weather and icy conditions, the local council should clear any snow and ensure that roads and pavements are gritted. If they have failed to properly grit a pavement and this has caused you to slip and become injured, you may be able to hold them liable for compensation.
However, due to financial and logistical constraints, councils cannot be expected to grit every single road and pavement. They, therefore, cannot be held liable for all accidents caused by ice on pavements within their borough.
In severe weather conditions, local authorities must decide which pavements to prioritise. They often do so depending on how often the pavements are used and whether or not alternative routes are available to pedestrians.
If you slipped on a busy high street that had not been gritted, for example, you would have a stronger claim against the local council compared to if you slipped on a quiet residential street with low footfall. An experienced personal injury solicitor will be able to advise whether you stand a good chance of making a successful slip on ice claim.

I've never been in an accident before. I was hesitant about making a claim but First Personal Injury sorted it all out and explained everything.
Mr Harris from Cornwall
See more testimonials
Common injuries following a slip or fall on ice
There are a range of different injuries that can occur following a slip on ice. Minor slips can cause stains, bruising and soft tissue injuries. Meanwhile, more serious incidents can result in fractured or broken bones and, in some cases, head injuries.
Wrist, hand and elbow injuries are particularly common as people attempt to break their fall, but end up fracturing or breaking bones.
Making a claim following a slip on ice or snow
In most cases, personal injury claims must be made within three years of the initial incident taking place. If you are under the age of 18, you have three years from the date of your 18th birthday to make a claim.
You must also be able to prove that your accident happened because of the negligence of someone else. If you have slipped on a pavement, it will have to be proven that the local authority failed to ensure that the pavement was safe for pedestrians.
How First Personal Injury can help you following a slip on snow or ice
To find out whether you can make a personal injury claim, get in touch with our team of lawyers. Following an initial conversation, our specialists will be able to advise whether we will be able to assist you. Call us on 0800 808 9740 or contact us online by filling in our online claim form.
Other Types of Claims for Accidents Involving Slips, Trips and Falls
Examples of tripping and slipping accident claims successfully pursued include:
Accident Claims with First Personal Injury
If you've had an accident that wasn't your fault, you may be entitled to accident and injury claims compensation. Our expert personal injury lawyers help people across England and Wales to win the compensation they deserve.
Contact First Personal Injury today by calling 0800 808 9740 to discuss your potential claim. Alternatively, request a callback at a time that suits you by filling out the online enquiry form.