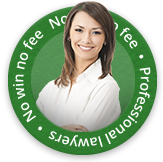 If you have injured yourself following a fall due to a defect in the street you could be able to make a claim for compensation for personal injury.
Who is liable for this kind of injury?
One of the first issues involved in this kind of claim is understanding who is liable for the injury.
In most instances, the claim will be brought against the local authority as it is their duty to maintain the upkeep of roads and pavements. If you have fallen due to a pothole or high kerb, for example, you may be able to make a claim against the council.
It is not always the fault of the council, however. The following could also potentially be at fault for a personal injury caused by a fall on the road or pavement:
Utility companies that have dug up the roads
Contractors
Negligent property owners who may have parked across the footpath to access their property
What should I do?
If you have been injured following a fall on the road and believe you may be eligible to make a claim, it's vital that you contact personal injury solicitors with experience in this area of the law. Advice will be given on the process of bringing the claim as well as an analysis of the potential success of the claim and the levels of compensation able to be claimed.

Great service, very professional and polite manners.
Kinga from Newcastle
See more testimonials
This area of the law can be complicated, so an experienced team of solicitors is vital.
Is there anything I can do to help my claim?
For this kind of claim, the following information can prove very important:
Witness information – if anyone sees the accident, make sure you get their name, address and telephone number
Photographs – make sure you get photographic evidence of the defect which has caused your injuries
Are there any issues I should be aware of?
If you're making a claim against the local authority for a fall on the pavement or a slip on a pothole there are certain issues that must be present for the claim to be successful. For example, the paving stone you tripped on must have been sticking up by an inch or more. In the case of a pothole, the depth must also be at least one inch.
You also need to show that the council knew or ought to have known the defect was in existence, as they need to have a reasonable inspection system in place.
With issues like this potentially hindering your claim, it's imperative to contact personal injury solicitors to deal with your claim on your behalf.
Other Types Of Claims For Accidents Involving Slips, Trips and Falls
Examples of tripping and slipping accident claims successfully pursued include:
Accident Claims with First Personal Injury
If you've had an accident that wasn't your fault, you may be entitled to accident and injury claims compensation. Our expert personal injury lawyers help people across England and Wales to win the compensation they deserve.
Contact First Personal Injury today by calling 0800 808 9740 to discuss your potential claim. Alternatively, request a callback at a time that suits you by filling out the online enquiry form.