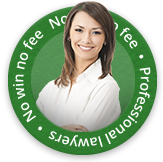 Slips, trips and falls are common accidents in the workplace. These accidents can occur for a variety of reasons such as objects in the way, spillages or poor building maintenance. Injuries are also varied but often include fractures and breaks to arms, legs, wrists and fingers. If you've received injuries as a result of a trip or fall at work, you may be able to claim compensation.
Slips & trips at work
The workplace is an environment which is likely to have many hazards which present the risk of causing slips or trips. According to the Health & Safety Executive, over 10,000 workers in the UK suffered serious injuries after having a slip or trip at work.

It is with a grateful heart that I thank you for all your help in a) getting my mother her compensation and b) allowing her to keep it without any more outgoings so she can take care of her family. We really fell on our feet finding your firm and rest assured I will be fully recommending you to all my friends.
Anonymous from Manchester
See more testimonials
Offices can often have trailing wires and equipment lying in walkways which create the risk of workers tripping over. Workers in shops, stockrooms or manufacturing factories can often sustain injuries as a result of tripping over stock that is lying around. Spillages in workplaces like the kitchen, for example, can create a serious hazard for workers who may slip and land on a hard surface.
Safety in the workplace – your rights
Employers have the responsibility to ensure the workplace meets health and safety standards, preventing any risk of accidents. If you have been injured due to health and safety procedures being ignored or neglected, you may be able to claim compensation for your injuries.
Training in health and safety is also vital at work. If you have experienced an accident that was not your fault due to a lack of training or a colleague hasn't followed procedures correctly, you may be able to claim compensation.
How to claim compensation
To find out if you are in a position to claim compensation for your work-related injuries, please speak to our team by calling 0800 808 9740 or completing the online form to request a callback.
Our experienced solicitors are always happy to help you through the process and aim to get you the compensation you deserve.
Been Involved In An Accident At Work?
If you've been injured at work in an accident that wasn't your fault, we may be able to help you make a claim for compensation today.
Get in touch and our expert team of personal injury lawyers will discuss your prospective accident at work case in further detail. You can contact us online or by giving us a call on 0800 808 9740.