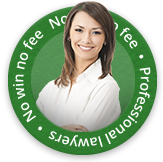 Neck injury claims are not unusual in the sphere of personal injury law. They can be caused by a number of different accidents. If the accident you have suffered is down to someone else's fault then it is possible to make a compensation claim for your injury.
The neck is a delicate part of the body that is also a crucial connection between the head and the body. The neck is important for head and shoulder movement and there are a series of nerves which exist within it. If any of these are damaged then it could cause you serious problems in terms of quality of life and work prospects.

I have today received the cheque for £11,500 for which together with the other monies obtained by you on my behalf I shall be eternally grateful. Please accept my sincere thanks for all you have achieved for me in what has been a very trying time. You have taken a lot of the stress out of what has been very stressful for me by your very professional approach. Best regards to you for the future and our heartfelt thanks.
Anonymous from
See more testimonials
Types Of Neck Injury Claim
A common type of neck injury claim is caused by whiplash which can result following a car accident. Whiplash is soft tissue damage within the neck and damage can be mild or moderate to severe
A car accident could cause damage to the spinal column in some cases. Depending on which part of the spine has been affected, this could end in permanent, partial or complete paralysis
Minor strains and a reduction in movement can also occur following a neck injury. These may seem like relatively harmless injuries but on occasion they can develop into something more serious which may affect your physical ability or cause long-term pain
If you have had an accident causing damage to your neck then you could be entitled to make a neck injury claim. You may have had to pay for medical expenses such as adapting your home because of your disability or you may have lost our on earning money because you can no longer do the job you were employed to do. All of which you could possibly be compensated for in your claim.
You have 3 years from the date of your injury in which to begin your compensation claim so it is important to speak to a personal injury solicitor as soon as you can.
Making Your Neck Injury Claim With First Personal Injury
We are able to handle a range of different types of neck injury claims at First Personal Injury.
Other Types Of Upper Body Injuries
There are many types of upper body injuries, below is a sample of the most common kinds of upper body injury claims:
Whiplash injuries
Frozen shoulder
Eye injuries
Hand injuries
Back injuries
Brain and head injuries
We aim to handle your claim and get you the compensation you are entitled to. Please call us on 0800 808 9740.
Personal Injury Claims with First Personal Injury
First Personal Injury has built up a reputation across the United Kingdom for their approach to accident and personal injury claims. Working with members of the public who have had personal injuries, we continually exceed our clients' expectations.
Contact First Personal Injury's accident claims solicitors free today by calling 0800 808 9740 or by completing our online enquiry form.