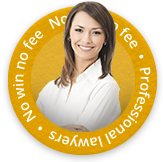 Sustaining a head injury at work can not only be extremely painful but can also result in potentially debilitating conditions for many victims.
If you or a loved one has suffered a head injury in the workplace and the accident was not your fault then it is worth considering speaking to a personal injury lawyer about whether or not to make a compensation claim.
Head injuries at work claims can often come about because of falling or slipping accident or falling from height injuries in the workplace.

I thank you for all your help. We really fell on our feet finding your firm and rest assured I will be fully recommending you to all my friends.
Anonymous from Manchester
See more testimonials
Some of the ways in which you can be affected by a head injury are below:
Poor concentration
Memory loss
Depression and/or anxiety
Inability to walk
Difficulty with speech and communication
Difficulty concentrating
Is My Employer Responsible For My Head Injury?
If your employer has not complied with health and safety law and protected you from the risk of a head injury in the workplace then it is likely it had acted negligently. If this can be clearly proven then you could have a potentially successful head injury at work claim.
Amongst other forms of protection, your employer should provide health and safety equipment such as safety headgear. They should also ensure that tripping hazards are minimised and objects are not able to fall onto workers.
Making A Head Injury At Work With First Personal Injury Lawyers
The people who work at First Personal Injury are committed to helping victims of brain injuries. We have a broad depth of knowledge in helping individuals and their families get the compensation they are entitled to following a head injury.
Head injuries can be very severe and mean that lives are turned upside down. If you have suffered through no fault of your own then it is possible you could have a successful personal injury or accident claim.
If you would like more information on head injuries at work claims then please get in touch with our team today on 0800 808 9740 or complete our online enquiry form.
Other Claims For Accidents In Work
The lawyers at First Personal Injury are experts in dealing with a wide range of accident at work claims.  If you have not sustained a head injury but another kind of injury, please do not hesitate to contact us to find out if you are entitled to make a claim for compensation.