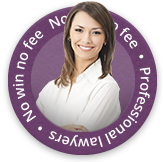 Injury Compensation Claims
Compensation claims are made when someone has been injured or suffered as a result of a third party's negligence.
If you have decided to make a claim or are still wondering if claiming compensation is the right thing to do, speak to our team for an initial discussion. At First Personal Injury we are clear on facts and honest about the likely success of your claim. Call us on 0800 808 9740.
What the Law Says
Often individuals or companies in a position of responsibility have a duty of care to those around them. In addition to this, over the years Parliament has passed legislation imposing duties. For example, if you are an employer you have a duty of care to your employees and also have duties imposed by legislation. An employer is responsible for making sure a safe working environment and a safe system of work are provided. Equally, if you are a driver, you have an obligation to drive safely in the interests of fellow road users as you owe other drivers a duty of care. Local authorities, owners of public places and medical professionals also have duties of care and obligations imposed by laws that they must adhere to.

I've never been in an accident before. I was hesitant about making a claim but First Personal Injury sorted it all out and explained everything.
Mr Harris from Cornwall
See more testimonials
If these legal responsibilities are not met and have caused you an injury, there is a strong possibility you can make a successful personal injury compensation claim if negligence can be proven.
---
Getting Started With Your Compensation Claim
Once you have received medical treatment for your injury it is advisable to speak to a personal injury lawyer. They will try and alleviate any worries you have and will answer any questions you may have.
Some people are reluctant to begin a claim as they feel it could put them in an awkward position with the person or institution who has been negligent. However, it is important to remember that compensation is a legal entitlement designed to protect you. The pain and suffering as well as financial loss you or a loved one have experienced often outweighs other considerations.
---
Who Can Help Me With Claim For Compensation?
A personal injury lawyer will be able to help with your compensation case from the start. It is also worth remembering that evidence is needed in any case. Try to collect information like car registration numbers in the case of car accident claims, or photographs of injuries and/or details of witnesses.
You should also take notes of any money you spend as a result of the accident. If possible, keep a diary setting out the progress of your injury and the amount of care you needed. This evidence may enable us to claim the cost of even a family member providing care back from the negligent party.
Usually, the process of making a compensation claim is straightforward. What's more, because many personal injury lawyers will take on cases on a no win, no fee basis, it does not have to be costly.
First Personal Injury Lawyers has a team of experts who will guide you through the injury claim compensation process, minimising any worries you may have along the way. Please call us on 0800 808 9740 to start your claim today.
---
Claiming Compensation For An Injury Or Accident – Your Rights
Claiming compensation for an injury you have endured because of someone else's actions is a legal entitlement.
This could include taking legal action against a hospital for medical negligence; a claim against a local authority for poor road surfaces which have caused an accident; making a car accident claim or making an accident claim after an accident in the workplace.
If you have decided to claim or are wondering if claiming compensation is the right thing to do, our team are ready to help. At First Personal Injury we will be clear and honest about the likely success of your potential injury claims case. Get in touch for an initial discussion on 0800 808 9740 or make an enquiry online.
Personal Injury Claims with First Personal Injury
First Personal Injury has built up a reputation across the United Kingdom for their approach to accident and personal injury claims. Working with members of the public who have had personal injuries, we continually exceed our clients' expectations.
Contact First Personal Injury's accident claims solicitors free today by calling 0800 808 9740 or by completing our online enquiry form.
---