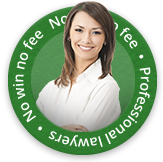 Road traffic accident claims? These come in all shapes and sizes. Were you the driver in your accident? Have you been injured in a car crash? Were you a passenger, a pedestrian or a cyclist caught in a traffic accident? Are your injuries minor or life-changing?
Whatever your situation, if you've been involved in a road traffic accident that was caused by another vehicle in the last three years*, you could be entitled to accident compensation. Remember, it's your right to make a claim.
Road traffic accidents? Here's how we can help
A road traffic accident is a stressful event. We can help you in practical ways as well as support you right through the claim process. We provide a one-stop solution designed to make sure you get on with your life as quickly as possible. We'll take care of every detail of your claim. We'll supply you with a hire car while your own car is off the road. We'll arrange repairs to your vehicle. There's no need to worry about accident claim costs.
You won't have to pay a penny for these road traffic accident services as we'll reclaim the costs from the faulty party.
We'll get you back on the road to recovery
While you're getting better, we'll get on with the business of claiming accident compensation for your road traffic accident. Our team of personal injury experts will pursue your claim without delay and guide you through the claims process so you're always up to date with what's happening. We'll make sure your accident claim is as stress-free as possible and that we achieve the very best compensation for you. When you have an accident, this is money you're entitled to. When you've had a road traffic accident, we can help you claim and put you back on the road to recovery – fast. * The three-year timescale runs once an individual has reached the age of 18 years old. Someone under 18 years old who has an accident still has until they are 21 to make a claim no matter when the accident happened.
Over the years we have helped many people make successful claims for compensation following accidents on the road, including these types of claims:

I've never been in an accident before. I was hesitant about making a claim. First Personal Injury sorted it all out and explained everything.
Harry from Bournemouth
See more testimonials
Injuries To Pedestrians
Motorcycle Injury Claims
Cycling Accident Claims
Passenger Accident Compensation
Coach Injury Claims
Taxi Accident Compensation Claims
Claims Following Bus Tram & Public Transport Accidents
Claims Against Uninsured Drivers
Car Accident Compensation Claims
Pothole Claims
Whiplash
Whatever type of claim you feel that you want to pursue following an incident on the road or whilst travelling, contact our team of expert personal injury solicitors so that we can help you to get back on track.