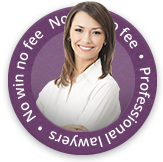 As a result of severe weather conditions in the UK, there has been a substantial increase in the number of accident claims due to potholes on the British roads.
AA Recent Report Regarding Pothole Accidents
This was the view of the AA in a recent report. Potholes cause not only damage to a car but they can also have deadly consequences. Cash strapped local councils have been criticised for just patching up the roads. But they are laying the blame firmly in the hands of the utility companies who fail to resurface roads properly after repairs have been carried out.

Calls For Government To Resolve Pothole Epidemic
Simon Douglas, Director of AA insurance, called on the Government to solve this pothole epidemic. The motoring body are urging the Government to put the extra money they have received from VAT on petrol into resurfacing roads. This in turn would not only reduce the number of compensation claims but needless accidents would also be avoided.
Been Injured As A Result of A Pothole?
If you have been hurt or suffered loss as a result of an accident or injury involving a pothole, then you may be able to make a claim for personal injury compensation. Contact our team of solicitors who will be able to advise further regarding your potential claim. Either call us on the number above or complete our initial online injury and accident claim form.
You can find out more about how we help people to win compensation following pothole incidents here.
Accident Claims with First Personal Injury
If you've had an accident that wasn't your fault, you may be entitled to accident and injury claims compensation. Our expert personal injury lawyers are able to assist with your potential claim and will help you win the compensation you deserve.
Contact First Personal Injury today by calling 0800 808 9740 or by filling out the online enquiry form.