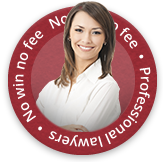 Considering Making A Claim Following Poisoning or a Burn Injury?
Our team of personal injury lawyers deal with a wide range of accident claim types – including claims following injuries from burns and poisoning.
If you feel that you have cause to make a compensation claim for an accident or injury which was not your fault please do not hesitate to contact us in the first instance for confidential advice and information.
Poisoning and Burns Claims Types
Injury claims from poisoning and burns can come about as a result of many different types of incidents, including:
You will find our team of accident and injury claims lawyers professional and friendly. When you contact us regarding your poisoning and burns claim, we will, of course, talk to you in confidence and you can be sure that we will do all we can to win you the compensation that you deserve.
Have you been in an accident that wasn't your fault?
If you or someone you know has been in an accident that wasn't your fault, you could be entitled to accident claims compensation. Our expert personal injury solicitors are waiting to hear from you to assess your potential accident claim.
Contact First Personal Injury by ringing the number above or by filling out the online compensation form.
---