Personal Injury Resources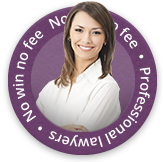 In this section, you will find all of the resources you need to make your personal injury compensation claim as easy as possible.
With guides to making compensation claims, checklists of what you'll need, plus details on your rights, no win no fee, and settlements as well as many other useful pages, this section is designed to help you take control after your accident and understand what you are entitled to and how to get it.
Feel free to browse the Personal Injury Resources selection for as long as you need to and, when you are ready to start your claim, contact our specialist team on 0800 808 3740 or 0333 323 1428 if you're on a mobile.
Contact or call us for free on 0800 808 9740 and speak with our team of injury lawyers.

We'll talk through the details of your claim over the phone, and then advise further!

If we think you've got a valid claim, we'll take care of everything else – quick & easy!

Start your claim
It only takes 5 minutes of your time to get started!