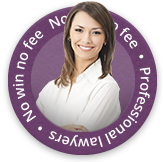 We work hard to help our clients win the compensation they deserve and truly value their feedback. Some of the comments we have received from people we have helped following an accident or injury are listed below.
I'm pleased that my damages claim was taken over by First Personal Injury. They work hard and get results.

Mark from Bolton, July 2018
The team were very informative and helpful when it came to helping me understand what was going on.

Zoe from Lincolnshire, May 2018

Communication was open and I knew what was happening every step of the way.

Christine from Manchester, April 2018

Absolutely fantastic, good advice and solid support. First Personal Injury understood my personal situation and helped work around it to better my needs.

David from Nottinghamshire, March 2018

A very friendly, helpful service. I was kept up-to-date on every aspect of my claim.

Jemma from Greater Manchester, March 2018

Very helpful, pleasant and highly recommendable. No improvement needed.

Brenda from Oldham, February 2018

Great service, very happy with the quality of services provided, will definitely recommend and instruct again.

Raluca from Birmingham, September 2016

To everyone at First Personal Injury, I thank you all for all the hard work that you have put into my claim.

Terry from Coventry, July 2016

The best results with the client's best interests at the centre of the claim.

Sara from Lincolnshire, August 2015
Great service, very understanding from the first phone call to the last.

Michael from Leicestershire, July 2015

Jenny Fenton returned my telephone calls promptly and kept me informed of progress at all times.

Hilda from Greater Manchester, July 2015
I was very happy with the service and have already recommended you to a number of people and will continue to do so in the future.

Jason from Wiltshire, July 2015
I was a client of Michael Mawdsley and I am very happy with the service and care I received. As the case progressed, Michael always made time to explain everything thoroughly to me."

Mary from London, June 2015

Great service, very professional and polite manners.

Kinga from Newcastle, May 2015

There is no area where I feel you could improve your services. I would like to take this opportunity to thank Mr Mawdsley for his part in dealing with my claim.

Marion from Stevenage, May 2015
All in all the service was great, my solicitor, Joanne was extremely helpful and I would have no hesitation in instructing her again, she did a great job.

Nichola from Manchester, April 2015
I am very happy with the work you and your team have done. Many thanks."

Michael from Kent, February 2015
I had complete confidence in Joanne, she was efficient and professional throughout the process.

Mark from Warrington, February 2015
Have you had an accident? You could be entitled to compensation
If you've had an accident that wasn't your fault, you could be entitled to compensation. Our expert solicitors are waiting to hear from you to assess the validity of your claim.
Contact First Personal Injury to discuss your potential accident claim today on 0800 808 9740 or, alternatively, fill out our online form.