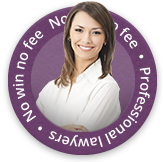 Blind And Brain Damaged After Father Attacked
A little girl who was shaken so violently by her evil father that she went blind has been awarded £500,000 compensation.  The 4 year old, was left blind and brain-damaged after her father attacked her in hospital.
Violently Shaken As A Baby
The youngster was violently shaken by her father when she was just 10 weeks old, but now solicitors have secured a half-a-million-pound payout, the highest possible amount available under the Criminal Injuries Compensation Scheme 2001. As well as being blind and severely brain-damaged,  the young girl is also epileptic, unable to walk or talk and will be wheelchair-bound for the rest of her life. The payout will cover the costs of the essential care Amy requires, including accommodation, transport, equipment and the cost of additional carers.
Mother Thanks Solicitors
The girl's mother, who also has a son, six, added: 'I am so grateful to my solicitors for being able to arrange this payment for my daughter and to my family, who have been so supportive and who help so much with my daughter's care.
24 Hour Care Needed For Claimant
Solicitors who represented mother and daugher, said: 'The assault that this young girl was subjected to was horrific and left her requiring 24-hour care for the rest of her life. 'The payment that we secured will be used to provide an improved quality of life for her for the future. 'The payment that we secured for her will be used to provide an improved quality of life for her for the future. 'While we are pleased to have secured £500,000 for her future care, the maximum possible award in cases like this, we would have preferred the scheme to have been much more generous to accurately reflect her true needs. 'Usually in personal injury cases, the settlement would be carefully assessed, to ensure it accurately reflects the long-term care needs of the victim. 'However, because this young girl was unfortunate enough to have been inflicted with such serious injuries during a criminal assault, her payout is capped at this level by the Criminal Injuries Compensation Authority (CICA).
Claiming For Injuries To Children
If your children have been injured in an accident that wasn't their fault, you could be entitled to compensation. Contact a personal injury lawyer today.