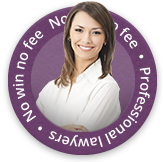 It was revealed last night that a woman's last chance for a child was shattered when her embryo was mistakenly implanted into the wrong patient.
The woman has received damages of £25,000 from Cardiff and Vale NHS Trust. The mistake is being blamed on a trainee who failed to follow the correct checking procedure.
The rise in serious blunders relating to IVF treatment is likely to result in a rise in personal injury claim cases.
Compensation Accident Claims
If you or someone you know has been in an accident that wasn't their fault they may be entitled to compensation. First Personal Injury solicitors are here to help with your potential compensation claims.
Contact First Personal Injury on 0800 808 9740 or make an online injury or accident claim today.  One of our team of expert personal injury lawyers will be able to advise you whether you may have a potential claim for compensation.  Whether your claim is for clinical or medical negligence, an accident at work, a road traffic accident or another type of personal injury, you can be assured that your prospective case will be treated in the strictest of confidence and our accident claims team will be sensitive to your requirements.