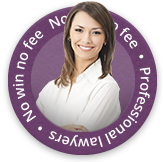 Considering Claiming Compensation For An Accident Or Injury?
Claiming compensation for an injury you have endured because of someone else's actions is a legal entitlement.
Claiming compensation could include taking legal action against a hospital for medical negligence; a claim against a local authority for poor road surfaces which have caused an accident; claiming against a driver who has knocked you down on the road or claiming compensation after an accident in the workplace.
Your personal injury solicitor will have to demonstrate negligence from the other party so it is important that this can be clearly established in order to be successful in a compensation case.
Injuries Leading To Compensation Claims
Compensation cases can arise from injuries as minor as bruising or slight concussion, to cases where there has been a violent assault causing brain damage or a late medical diagnosis leading to premature death.
Psychological issues related to not being able to go to work or do things you used to enjoy can also be compensated for. Trauma and anxiety can form part or all of your claim as in some cases these can result following a traumatic incident.
What Can I Claim Compensation For?

I was a passenger in a car involved in a road traffic accident and suffered serious injuries to my right shoulder, my elbow and scarring to my forehead. I was unable to work for a long time. First Personal Injury dealt with my case from the outset. I never expected that I would receive £21,191.00 of compensation for my injuries and other losses I had as a result of the accident. I am delighted with the outcome of my claim and would definitely recommend First Personal Injury to anyone who wants to make an accident claim.
Natasha from Manchester
See more testimonials
Loss of earnings
Loss of amenity e.g. an inability to do the things you used to enjoy
Loss of medical expenses e.g. paying for prescriptions or wheelchair
Pain and suffering related to the injury
Claiming Compensation For Your Injury
At First Personal Injury we cannot turn back the clock but we can offer some means of helping you become compensated for your injury. We understand this won't make your injury or illness disappear but it will help ease some of the difficulties you may face and will go some way in the healing process by offering practical and financial assistance for expenses like home adaptations and/or therapy.
If you have decided to make an accident claim or are still wondering if claiming compensation is the right thing to do then speak to our team for an initial discussion. At First Personal Injury we are clear on facts and honest about the likely success of your claim. Call us on our national accident helpline on 0800 808 9740.