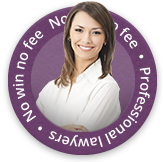 A recent survey compiled a list of the top questions asked of injury lawyers, here are the top three:
Q. How much compensation can I expect to receive?
A. The amount of compensation you will receive depends on the extent of your injury or illness and how this affects your ability to live a normal life. Your APIL accredited lawyer will be able to give you some idea before you decide whether to pursue a claim.
We have also put together a personal injury compensation calculator for guidance only.
Q. What is 'no win no fee' compensation?
A. This term is often used to indicate that there is no fee to pay whether you lose or win your claim.
Q. What is the difference between a law firm and a claims management company?
A. A law firm is regulated by the Solicitors Regulation Authority, and the barristers they may instruct on your behalf are regulated by the Bar Standards Board. Claims management companies are regulated by the Claims Management Regulation Monitoring and Compliance Unit, and usually act as middlemen, not actually handling accident injury claims themselves
Personal Injury Compensation Claim
First Personal Injury has helped members of the public across the UK secure personal injury compensation. If you think you or someone you may know is entitled to claim compensation, give First Personal Injury a call to discuss your or their potential personal injury compensation claim today.
Contacting First Personal Injury is free by ringing 0800 808 9740 alternatively by filling out the online claims form.