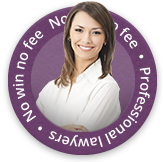 We all know that children will get minor bumps or bruises throughout their life, but when a child is involved in a serious accident it is extremely traumatic for both child and parent. Has your child been involved in an accident that wasn't their fault? If they have suffered an injury as a result of this accident, you may be eligible to claim financial compensation on their behalf.
Common reasons to claim compensation for your child
There are many different reasons why you may wish to make an accident claim for your child. If you're unsure whether you can successfully claim compensation, here are a few examples of the common causes of child personal injuries:
Injury in a road traffic accident as passenger, cyclists and pedestrians

I thank you for all your help. We really fell on our feet finding your firm and rest assured I will be fully recommending you to all my friends.
Anonymous from Manchester
See more testimonials
Road traffic accidents are an all too frequent occurrence, and even the most diligent driver can find themselves involved in a terrifying collision – what's worse, there child may be passenger to it too. It's not just car accidents that children may be involved in; injuries may occur as a pedestrian and cyclist too. Compensation claims can be made against injuries that are both minor and substantial.
Injury caused by a dangerous or faulty product
Despite most businesses best efforts to keep their products as safe as possible, sometimes unforeseen product faults and design flaws can lead to serious injury, including lacerations and burns. If your child has been injured due to a dangerous product, such as a toy with sharp edges or a gadget with electric faults – you can make a claim against the manufacturer.
Injury caused by slip, trip and fall in a public place
Another common reason for making a child's accident claim is following a slip, trip or fall in a public place. These sorts of accidents are beyond a simple trip and grazed knee whilst playing. Slips, trips and falls due to poorly maintained pavements or bad crowd management can lead to serious injuries such as broken bones. Public places may include a park, supermarket, festival event or street party. These injuries can occur on both private and public premises, anywhere members of the public are gathering and there is a duty for visitors or customers to be kept safe.
Injury caused by theme park or fairground ride
There's something especially upsetting about an accident taking place where the family is supposed to be having fun, like at a theme park or fairground, but unfortunately injuries are common here too. If your child has experienced an injury whilst on a ride or amusement, it is the park owner's responsibility to provide compensation.
Injury caused by lift or escalators
To ensure their children are kept safe, parents have a duty to make their children behave appropriately on escalators and in lifts. However, sometimes accidents happen through no fault of either party and leave a child with a minor or major injury, a trauma they should not have had to experience. If your child has been injured when using a lift or escalators, claim the compensation they are eligible for by speaking with personal injury lawyers today.
Making a compensation claim for your child
To make a compensation claim as the parent or guardian of your child, you need to be eligible to be a 'litigation friend'. A litigation friend must be independent from those involved with the accident. For example, if you were the driver of the vehicle in which a child was injured during a road traffic accident – you would not be eligible to make a claim. In these circumstances, the other parent or another close relative can act as the litigation friend for your child. If you would like to claim compensation for your child with a parent or relative being liable for the accident, it will be the individuals insurance company and not the individual themselves who will pay-out. Therefore, the need to claim against another relative should not stop you from making an accident claim for your child.
It is extremely unfortunate when a young one suffers at the hands of someone else's negligence, but if you are so unlucky then you should claim the compensation you deserve.
With First Personal Injury solicitors, making a claim couldn't be faster or more straightforward. All you need to do is give us a call, for free, to discuss your child's recent accident and injury. You have 3 years since the accident to make a claim. We can tell you over the phone whether you are likely to have a successful case, and take the proceedings from there. All our cases are run on a 'no-win, no-fee' basis, so you have nothing to pay until you receive your full compensation sum on the closure of your case. You really have nothing to lose, but could gain a warranted sum towards your child's future.