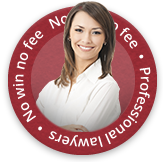 Making a claim against a hospital
If you have suffered an injury following treatment in a hospital you may be able to make a claim against that hospital for medical negligence.
Claiming for medical negligence
Unfortunately, during a stay in hospital, rather than receiving the treatment you expected, you may be unlucky enough to suffer an additional injury or complications due to the treatment you were given. If this is the case, you may be going through a very difficult time and be unclear about whether or not you can bring a claim against the hospital for your injuries.
Personal injury solicitors
You can potentially make a claim against the hospital, but to do so, it's vital to have the assistance of personal injury/ clinical negligence solicitors with experience in this complicated area of the law.
The first thing you should do is contact a legal team who can advise you on the chances of bringing a claim and the potential compensation available.
---
Evaluating whether the injuries were caused by negligence
This is one of the first steps your legal team will undertake as, in certain instances, even if you've suffered injury, it's not always the case that the treatment you received was negligent. In some circumstances, your injury could have been prevented by better quality care or safety measures, but sometimes it just couldn't have been avoided. Simply suffering an injury doesn't necessarily give you the right to claim personal injury compensation against the hospital.
In order to make a claim under UK law, it needs to be shown on the balance of probabilities that the medical care you received was negligent and it directly caused you injury.
---
Standard of proof for medical negligence
For any medical negligence claim brought against a hospital, the following elements must be present for the compensation claim to succeed:
A duty of care was owed to you by the hospital
There was a breach of this duty
This breach of duty caused your injuries (i.e. there was a causal link)
You have suffered loss or injury as a result of this breach of duty
Who will the claim be brought against?
This will depend on where you were receiving treatment. For example, if you have suffered the injury in an NHS hospital the claim would be brought against the NHS Trust responsible for the hospital. If you were receiving private treatment, the
injury claim
would be brought against the private hospital, medical professional or care group responsible.
---

Very caring, professional and efficient solicitors. Would highly recommend.
Sharon from Wigan
See more testimonials
Is there a time limit on when I can bring the claim?
The claim must be brought within three years of the incident or three years from when the injuries became apparent.
Making Personal Injury Claims
If you've had a personal injury, you may be entitled to compensation. The solicitors at First Personal Injury are on hand to assist you and help you win the compensation you're entitled to.
At First Personal Injury, we work with individuals and families across England and Wales, helping them to make claim compensation following an accident or injury. Contact our specialist team today on 0800 808 9740 or complete our online form to request a call-back.
---