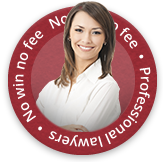 If you have suffered an injury caused by the medical negligence of an NHS professional you may be able to make a personal injury compensation claim.
To learn more or to start your claim, get in touch with our expert team on 0800 808 9740 or contact us online. 
Compensation claim against the NHS
To make a successful compensation claim against the NHS you must be able to prove the following:
That a duty of care was owed to you by the NHS practitioner or hospital treating you
There was a breach of that duty (medical negligence)
That the breach of  duty caused you injury
You suffered injury or loss as a result
---
What should I do?
If you have been injured following treatment by an NHS professional which you believe to be medical negligence, you should immediately contact us to assess your claim.
This area of the law can be complicated, especially if you're going through a distressful time. As a result, it's vital to secure the services of a legal team with experience, success and knowledge relating to medical negligence claims against the NHS.

Great service, very professional and polite manners.
Kinga from Newcastle
See more testimonials
---
How do NHS Claims work?
Once you've contacted us, we will explain the various options available to you to pursue your claim.
For more straightforward claims of a lower value, the NHS redress scheme is a potential option. This covers liabilities relating to personal injury or loss arising out of a breach of duty of care, those in relation to the diagnosis of an illness, or the care or treatment of any patient and arising as a result of any act or omission by a healthcare professional.
Possible outcomes from the NHS redress scheme include financial compensation, the giving of explanations and, in some instances, contracts for future remedial care.
It is also possible to seek redress through the NHS complaints procedure.
For more serious cases which attract higher levels of compensation following personal injury, your solicitor will have to acquire your medical records and obtain a medical expert's opinion on your case. Once they have all the relevant information in support of your case, the details of your claim will be sent to the relevant NHS body. If the claim cannot be settled, Court action may have to be commenced.
In order for the courts to assess the validity of the claim, they will investigate the standard of care provided to you.
The standard of care expected from medical staff under UK law is that of an ordinary, competent medical practitioner with that skill. Your solicitor will see if there has been a breach of the duty of care by assessing whether they acted in accordance with the proper practice accepted by a body of medical opinion.
If they didn't, you may be eligible for compensation.
Contact First Personal Injury
You have 3 years in which to commence a claim for medical negligence. This is either from the date of the injury or loss or the date you became aware of the injury or loss.
To learn more or to start your claim, get in touch with our expert team on 0800 808 9740 or contact us online. 
Explore: Personal Injury Resources