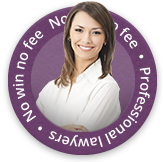 If you have suffered a personal injury in an accident involving the police that wasn't your fault, you may be able to make a personal injury compensation claim.
Circumstances for personal injury claims
The police have a special role in society to enforce the law and protect us, but they are not above the law. In certain instances they can overstep their boundaries and legal powers, causing personal injury to a member of the public.

Very helpful, pleasant and highly recommendable. No improvement needed.
Brenda from Oldham
See more testimonials
Instances when this might happen include:
A situation where you have been deliberately assaulted by a police officer
Inappropriate use of force by a police officer
You were involved in a road traffic accident with a police officer in which you suffered personal injury
What should I do?
If you have suffered personal injury as a result of an incident with a police officer it's vital that you contact personal injury solicitors with experience in this area of the law.
Making a claim against the police can be an extremely daunting prospect, so if you feel you are eligible for compensation contact an experienced team of solicitors immediately. They will take into account all the elements of the incident and advise you whether you have a valid claim and the best course of action.
In many cases, they may be able to act for you on a no win, no fee basis.
Potential outcomes
If your personal injury compensation claim is successful the following damages could potentially be awarded:


Communication was open and I knew what was happening every step of the way.
Christine from Manchester
See more testimonials
Basic damages for pain and suffering – this will be an amount of money designed to compensate you for the personal injury suffered
Financial losses – this will take into account past and future financial losses suffered as a result of the injury
Aggravated damages – damages for injured feelings; will not be less than £1,000
Exemplary damages – designed to punish the conduct of a police officer which is deemed to be arbitrary, oppressive or unconstitutional; will not be less than £5,500
The amount of damages awarded will depend upon the particular circumstances of your case.
Criminal Injuries Compensation Authority
If you are unable to pursue a personal injury claim, a claim may be able to be brought to the Criminal Injuries Compensation Authority where injuries have been suffered as a result of a crime of violence, for example where you have been deliberately assaulted
These types of claim must be made within 2 years of the incident. The amount of compensation awarded by the authority will be determined according to a Tariff Scheme and is assessed according to the injuries sustained.
If would like to learn more about making a compensation claim against the police, contact our experts today. Call our team on 0800 808 9740 or contact us online to arrange a free, no-obligation conversation.