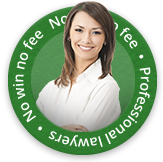 Parents send their children to school, trusting that they will be kept safe and protected from injury. However, sometimes, accidents can occur and children become injured at school.
If you are the parent of a child who has had an accident or injury while at school, you may be able to claim compensation.
Types of accidents that can take place at a school
Slip or trips inside the school or in the playground
Accidents on playground equipment or during P.E lessons
Slip or trip inside the school
The school is expected to be careful to look after the welfare of their children who are considered lawful visitors – accordingly they must keep the premises safe from defect. This includes ensuring that icy pavements and playgrounds are properly gritted and that floors are free from spillages and obstructions.

The team were very informative and helpful when it came to helping me understand what was going on.
Zoe from Lincolnshire
See more testimonials
If a school fails in its duty and, for example, your child falls due to a hole inside the school or due to a wet or slippery floor, it's likely that you would be successful in instructing your solicitor to school accident claim on your behalf.
To prevent injury occurring to adults in this situation of a hole in the floor or a slippery surface, a cone is usually sufficient to warn of the danger. However, for a young child, this may not necessarily be enough – it may be better for the school to attempt to bar a child accessing this area. If that was the case it would be difficult to bring a personal injury claim against the school.
Slip or fall on the playground
Say for example your child slips on some wet leaves and injures themselves while at school; there may be the potential of bringing a compensation claim for their injuries. A variety of factors will be taken into account:
Whether or not your child was properly supervised by a member of staff at the time of their accident
Whether the school had proper playground maintenance and inspection systems in place
The severity of your child's injuries
Supervision
When children are playing in the playground, a suitable member of staff should be supervising. If there was no one supervising, you would stand more chance of success in your claim. If someone was supervising the questions would need to be asked regarding whether they warned the children to stay away from the leaves and if any child did go near if they were reminded of the risk.
Maintenance and inspection systems
The school should have playground maintenance and inspection systems in place where they inspect the playground periodically to make sure it is safe for the children to use.
If there are several trees in and around the area, the school should be more aware of the problems that falling leaves can pose and should have a system in place whereby they watch out for and clear away any fallen leaves.
The severity of the injuries
If the injury suffered is quite serious, say for example a fractured or broken wrist, it is more likely that a compensation claim will be successful.
Accidents involving playground equipment
Sometimes, children become injured while using equipment in the playground. While it is impossible to prevent some accidents from happening, there are a number of steps individuals working at a school should take to reduce the risk of others.
Supervision
When children are playing on a playground climbing frame, a suitable member of staff should be supervising. This is especially important when the children are very young as there is a high potential that a child injury could occur. Young children do not always understand the potential dangers of using equipment like this, making it imperative for a teacher to be present.
If a teacher isn't present and your child suffers injury, this will increase the chances of bringing a successful injury claim against the school.
Suitability of the equipment and tarmac
It should really be accepted that children, especially young children, will fall from playground equipment. This can happen regardless of whether a teacher is supervising or not.
However, what will be at issue are the height of the climbing frame and the suitability of the tarmac below it. The climbing frame should not be too high for a child of a certain age to use. If it is, a member of the teaching staff should prevent them from using it. If a child falls from a climbing frame that's at a suitable height they won't have to drop too far before reaching the floor, so the risk of injury will be reduced. If it's too high, a serious injury could occur.
The surface underneath the climbing frame should also be able to cushion the fall of the child and prevent injury. Modern surfaces include a kind of rubber which is designed specifically to do just that. The school should ensure this is in place.
If, for example, your child falls from a climbing frame and breaks an arm, it's likely that the equipment was too high and the surface below wasn't properly cushioned. In this event, the school's potential argument that it was an unavoidable danger of providing this kind of equipment would be unlikely to hold up and a compensation claim could be successful.
You could be entitled to make an accident claim
You may be entitled to compensation for a range of compensation claims under accident claims. Our expert injury solicitors will help assess your potential claim going forwards and provide you with proficient advice.
Contact First Personal Injury to today by ringing 0800 808 9740 or by filling out the online claims form.
Have you been in an accident that wasn't your fault?
If you or someone you know has been in an accident that wasn't your fault, you could be entitled to accident claims compensation. Our expert personal injury solicitors are waiting to hear from you to assess your potential accident claim.
Contact First Personal Injury by ringing the number above or by filling out the online compensation form.