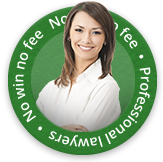 Pleural thickening claims often stem from workers who have been exposed to asbestos in their previous employment. They are usually serious occupational illness claims which leave sufferers in considerable pain and discomfort and with the propensity to form other more serious asbestos-related illnesses.

What Is Pleural Thickening?
Pleural thickening can sometimes be referred to as diffuse pleural thickening. Both terms relate to an illness caused by inhalation of asbestos fibres. When the fibres are inhaled, the lungs are affected and scarring and thickening can take place.
When small areas are affected, pleural plaques can form. This is a condition which can sometimes be tolerated but when there is more exposure there is often more damage this is called diffuse pleural thickening and it can lead to debilitating and significant breathing difficulties in some patients and can occur in one of both lungs.
Asbestos Exposure
In many cases, asbestos exposure will have occurred years, sometimes decades ago when asbestos was more prevalent in lots of different industries. A characteristic of many asbestos-related illnesses is late-onset symptoms and when patients receive a diagnosis, there can often be a short life expectancy that follows.
Making A Personal Injury Claim For Pleural Thickening
The pain and suffering associated with pleural thickening can be severe and your compensation settlement will factor in the level of discomfort and pain you have experienced. It will also take into account if you have paid for additional, related medical expenses or if you have suffered a loss of earnings by not being able to work.
Despite the late onset symptoms of asbestos exposure, it is still possible in many cases, to make a personal injury claim for an illness that was caused years ago. Even if your employer has ceased to trade or does not have insurance, there is still scope to pursue a claim thanks to some recent changes in legislation.
It is advisable to speak to a specialist occupational illness lawyer in order to get the facts about making a pleural thickening claim. First Personal Injury is a team of no win no fee solicitors who successfully pursue pleural thickening claims on behalf of clients. If you would like to speak to one of our personal injury lawyers then please get in touch with us on 0800 808 9740 or fill in an online claim form and we will get back to you.
Personal Injury Claims with First Personal Injury
First Personal Injury has built up a reputation across the United Kingdom for their approach to accident and personal injury claims. Working with members of the public who have had personal injuries, we continually exceed our clients' expectations.
Contact First Personal Injury's accident claims solicitors free today by calling 0800 808 9740 or by completing our online enquiry form.