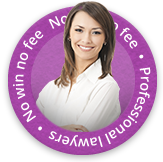 All head injuries are potentially serious and anyone who has suffered an injury to their head should seek medical attention immediately. The nature of head injuries and their severity can lead to significant side effects and if you do suffer a head injury as a result of negligence you could be entitled to make a claim.
The head injury lawyers at First Personal Injury have helped countless individuals who have been affected by head injury and are on-hand to advise you. Call us on 0800 808 9740 or contact us online to arrange a call-back. 
Common head injuries
A head injury is any type of trauma that causes an injury to the scalp, skull or brain.
Head injuries can range from minor injuries including bruising and grazing to serious lacerations and concussion. At the serious end, severe head injuries can include fractured skulls or serious brain injuries. Long-term issues caused by head injuries can include loss of sight, regular headaches, dizziness, post-concussion syndrome, permanent disability and, in some cases, death.
The most obvious sign of a head injury is a visible wound but injuries are not always so obvious and it is advised to carefully monitor a head injury for any side effects or symptoms.
Common symptoms of head injury
Headaches
Drowsiness
Memory loss
Confusion and/or problems speaking or hearing
Vomiting
Unsteadiness
Blurred or double vision
Nosebleeds
Breathlessness
Seizures or fitting
Loss of confidence or anger problems
There are three main types of head injury:
Concussion
Concussion is the most common type of head injury and can be relatively minor. However, it is a condition that can quickly deteriorate signifying more severe brain injury.
Open head injury
This is most commonly seen in cases where the skull is fractured following pressure or force being applied to the head. The force exerted on the head will be strong enough to cause a fracture or displacement.
Closed head injury
When the structure of the head is not affected or fractured it is known as a closed head injury.
Accidents That Cause Head Injuries
There are a number of types of accidents that have the potential to cause head injury, including:
A falling accident at work e.g. falling from a height or tripping accident
Road traffic accidents where there has been a high or low impact collision
A physical assault where there has been a knock to the head
Medical negligence could also have led to a head injury in some cases
Your head injury claim may stem from a car accident, trip or slip, accident in the workplace or as a result of medical negligence. Whatever the reason for your injuries, if there is a third party at fault then you could be eligible to make a personal injury claim.
Claiming head injury compensation
If you have suffered an injury of any kind from the above then your life will have been impacted. The degree of the impact your head injury has caused will reflect the amount of compensation you receive.
You have 3 years from the date you had knowledge of your head injury in which you can make a compensation claim.
Making a head injury claim with First Personal Injury
At First Personal Injury, our lawyers have vast knowledge and experience in dealing with head injury compensation claims and have worked closely with many head injury victims in the past.
We will review your case at no cost to you, and provide you with a comprehensive and honest assessment of your head injury claim. From day one we will keep you informed every step of the way so you can begin planning for the future.
Our solicitors know that every person claiming head injury compensation has specific needs that are essential to their individual circumstances. Having helped thousands of people with serious injuries we are fully aware of the physical, psychological and emotional impact that a head injury has on the lives of everyday people and their families.
Contact First Personal Injury today by calling 0800 808 9740 or by filling out the online injury claim form.