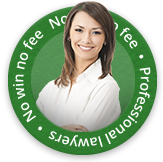 Whiplash Injury Compensation
Whiplash is one of the most common injuries resulting from road traffic accidents. The condition is caused by the sudden impact of a road accident when the head is thrown back very quickly and violently.
Car crash victims often suffer whiplash injuries which can include varying degrees of neck pain, stiffness, headaches and shoulder and back pain.
To learn more or to start your claim, get in touch with our expert team on 0800 808 9740 or contact us online. 
Whiplash Accident? We are Here To Help
Whiplash can disrupt your life. Sometimes the discomfort of the injury can last for a prolonged period and make life difficult and painful. When an accident was someone else's fault, it's your right to claim compensation. This is where we can help.
We'll take care of your accident claim to make sure you can concentrate on getting back to full health. We'll organise all of the paperwork involved in making a claim and use our personal injury expertise to get you the full accident compensation you're entitled to. Whether your injury is minor or severe, we'll make sure you receive the compensation that's rightfully yours.
---
I was a passenger in a car involved in a road traffic accident and suffered serious injuries to my right shoulder, my elbow and scarring to my forehead. I was unable to work for a long time. First Personal Injury dealt with my case from the outset. I never expected that I would receive £21,191.00 of compensation for my injuries and other losses I had as a result of the accident. I am delighted with the outcome of my claim and would definitely recommend First Personal Injury to anyone who wants to make an accident claim.

Natasha from Manchester
See more testimonials
What Is Whiplash?
Whiplash and whiplash-associated disorders (WAD) represent a range of injuries to the neck caused by or related to a sudden distortion of the neck.
Whiplash is commonly associated with car accidents usually when the vehicle has been hit in the rear however the injury can be sustained in many other ways, including falls from bicycles or horses or even headbanging.
In many cases especially those involving other parties or equipment maintained by others, accidents resulting in whiplash often give rise to a claim for compensation.
A whiplash accident occurs when one motor vehicle strikes another causing various forces to be transmitted from the striking vehicle to the one which has been struck. These forces will then, in turn, be transmitted to the occupants of the vehicle, where they have the potential to cause an injury of this type. These types of injury are associated with road traffic accidents however, you should note that whiplash type injuries can be sustained in any accident that involves trauma to the neck, shoulder or back.
A Whiplash injury can manifest itself in many ways which are sometimes fairly minor but often quite serious.
---
Whiplash Symptoms
Symptoms can include inflexibility of movement around the neck area.
Sufferers also often complain of headaches and muscle spasms in the neck and shoulder region. In more serious cases there can be inflammation of the soft tissue, severe back pain, pins and needles, exhaustion and vomiting.
If treated symptoms can be relieved successfully but can nevertheless affect the sufferer for years after the initial accident.
Whiplash can be a debilitating condition and sufferers often have to take time off work. If you've been involved in a road traffic accident for which you were not responsible and have suffered an injury you could be entitled to make a personal injury claim.
Most people know whiplash as an injury that occurs after a road accident. This is very common, but it isn't by any means the only cause of this type of injury. It can occur following slips, trips and falls, accidents at work or any other type of accident where your head is suddenly jolted forwards and backwards.
The symptoms commonly include:
Pain and stiffness in the neck
Difficulty in turning and bending your neck
Pain or stiffness in the shoulders or down the arms, as well as potentially the lower part of the back
Pins and needles in the arms or hands
Headaches
Dizziness, blurred vision and pain in the jaw
Neck swelling
Decrease in neck, back or mobility headaches
Your symptoms may not be acute immediately after the accident and sometimes take a few days to appear. If you haven't already sought medical advice after the accident you should do so as soon as the symptoms become apparent. This medical record could help form an important part of your accident claim.
---
How Is Whiplash Treated?
A whiplash injury can be treated in a variety of ways but it is often a matter of resting and waiting for the body to repair itself over time.
It is usual for doctors to prescribed painkillers and anti-inflammatory drugs and in less severe cases these can be obtained over the counter at your local pharmacy.
Ice packs can also help to reduce swelling and provide some relief from discomfort and pain. Gentle stretching exercises can reduce the likelihood of muscular stiffening.
There are also various exercises and techniques which are recommended by Chiropractors.
If you have received a whiplash injury, as the result of a road traffic accident which was not your fault, you should contact an experienced personal injury claims lawyer because you could be entitled to make a personal injury claim.
Personal injury claims for whiplash are amongst the most common compensation claims, especially after road accidents. But with an increasing volume of claims as people become aware that they can claim for such injuries, insurance providers can be reluctant to payout.
So, if you have suffered whiplash following an accident that wasn't your fault, it's important to follow a number of steps to give yourself the best chance of success in your claim.
---
I found your services to be excellent and my solicitor kept me well informed on everything. I found her to be polite, friendly and very professional.

Tina from Merseyside
See more testimonials
Steps after the accident
This will depend on how the accident occurred. If for example, it was a road accident, you should ensure you get all the details of the other driver involved, including their name, contact details and of course their important insurance details. It may also be helpful for you to take pictures of the accident scene- where you are able to.
If your injuries are immediately apparent after an accident like this, it's vital that you attend A&E to make sure you get all your injuries properly checked out.
---
Bringing a claim
Contact First Personal Injury to receive an analysis of the potential success of your claim as well as an estimation of the damages you may receive.
This will enable you to concentrate fully on your recovery, safe in the knowledge that your claim is being taken care of.
Making Whiplash Claims For Compensation
If you feel that you have cause to make a claim for whiplash following an accident or injury which was not your fault in the past 3 years you should contact our team of expert personal injury lawyers today to discuss your potential case in confidence.
Contact us today regarding your prospective personal injury compensation claims case, in confidence.
An estimate of the amount of compensation you may be entitled to can be viewed here.
What should I do if I experience whiplash?
Treatment for whiplash generally tends to depend on the severity of the injury, however, even if you aren't experiencing any symptoms, it is recommended that you see a doctor. Whilst you may not feel anything at present, damage may still have been done or it is possible that your symptoms have been delayed.
Can I claim for whiplash?
The effects of whiplash can range from mildly troublesome to hugely disruptive. For some, the symptoms of their injury can lead to long periods of discomfort and pain and perhaps prolonged time away from work. If you are not to blame for a whiplash injury that was the result of a road traffic accident, then you have the right to make a compensation claim.
To learn more or to start your claim, get in touch with our expert team on 0800 808 9740 or contact us online. 
---