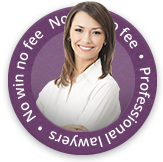 If you have suffered a broken nose as a result of an accident where someone else is considered to be "legally at fault" or "legally responsible" you may be able to make a claim for personal injury compensation.
Circumstances Where A Broken Nose May Occur
A broken nose could occur in a variety of accidents that weren't your fault. They include, but are not limited to, the following:
Road traffic accident (RTA)
Accident at work
Accident caused by medical negligence
Symptoms Of A Broken Nose
There are two main types of injury that can occur to your nose; breaking it and fracturing it. The symptoms of a broken nose can be very painful and both swelling and bleeding are common. If you think you may have broken your nose you need to see a doctor as they'll be able to determine the extent of your injuries. This will be done by feeling the bridge of your nose.
Personal Injury Solicitors
Once you have seen a medical practitioner, you should make sure that you get in touch with personal injury solicitors who have experience in this area.
Broken Nose Levels of Compensation
The level of compensation you may potentially receive, for pain and suffering, will depend on the extent of your injuries as well as the nature and duration of your symptoms.
This will be determined by an independent medical report which will be obtained by your legal team on your behalf from a specialist Ear, Nose and Throat (ENT) consultant.
The following is just a guide to the potential levels of compensation:
Simple fracture which doesn't require manipulation of the bones to heal (no symptoms of pain) – £1,000 – £1,600
Displaced fracture (bones not in line) with manipulation required – £1,600 – £2,000
Fractures requiring surgery – seriously broken nose or multiple fractures needing surgery and permanent reduction in sense of smell and potential facial deformity – £2,500 – £15,000
Total loss of sense of smell – £16,000 – £21,000
Claiming Compensation
If you've had a personal injury you may be entitled to compensation. First Personal Injury solicitors will help assist your prospective claim and help further win your compensation if you're entitled to it.