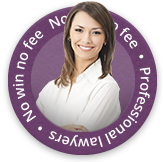 Carpal Tunnel Syndrome is a form of  Work-Related Upper Limb Disorder and can also be classed as a Repetitive Strain Injury (RSI)
The condition is caused by the median nerve in the wrist being constricted and the thickening of tissue around it. Sometimes it is necessary to perform a decompression operation to relieve the symptoms.
If you have suffered this kind of injury then you may be wondering how much compensation for carpal tunnel syndrome. If so, use the below details as a guideline for how much you can expect in a personal injury case.
Compensation Levels For Carpal Tunnel Syndrome
The level of compensation you will be granted depends on a few things including whether or not your condition is bilateral (affecting both sides of the body); your age; if surgery has been necessary; the level of pain experienced and if there are recurring symptoms.

I was very happy with the service from First Personal Injury. I have already recommended you to a number of people and will continue to do so in the future.
Jason from Wiltshire
See more testimonials
For carpal tunnel injuries which are bilateral and have caused disability and loss of employment, compensation is equal to £15,650 up to £16,500
If your condition is continuous but changeable then compensation brackets are £10,600 to £11,700
If your symptoms have corrected themselves within 3 years then £6,175 up to £7,700 is normally granted
A complete recovery from carpal tunnel syndrome i.e. one that is within a matter of weeks or a few months sees sufferers claiming between £1,575 and £2,500
How To Make A Claim For Carpal Tunnel Syndrome
If you believe you have suffered some or all of the symptoms of this condition as a result of your workplace environment then we recommend you speak to a specialist personal injury lawyer to find out more specifically, how much compensation for carpal tunnel syndrome.
Your employer has to comply with health and safety regulations by law. This includes the provision of correct workplace stations and risk assessments for individuals, amongst other regulations.
If your employer has not demonstrated this duty of care to you as an employee then you could make a workplace accident claim. Please call the First Personal Injury accident claims team today to find out more about how to begin the claims process. Call us on 0800 808 9740.
You can also find out more about making a claim for carpal tunnel syndrome compensation here.