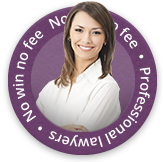 With many people choosing to hold their own private firework displays, Bonfire Night can be a busy period for the emergency services. Fire safety is a serious matter and ensuring that members of the public take the relevant precautions during this time is made a priority.
Whilst fireworks can be a lot of fun, things can go wrong, so make sure you remember the 5th of November for all the right reasons and follow these Bonfire Night safety tips.


I found your services to be excellent and my solicitor kept me well informed on everything. I found her to be polite, friendly and very professional.
Tina from Merseyside
See more testimonials
Bonfire safety
If you're holding your own Bonfire Night and plan on lighting a fire, it is essential that you choose somewhere which is set well away from buildings (including houses, garages and sheds) as well as fences, cables, trees and any fireworks. However, your evening will be instantly safer if you choose not to have a bonfire, so consider managing without one.
Follow the firework code
Keep pets indoors
Don't give sparklers to children under 5
Only purchase fireworks that are marked with BS 7114
Store fireworks in a closed box
Follow each individual firework's instructions
Supervise children at all times
Don't drink alcohol if you are dealing with fireworks
To light, use a taper and stand well back
Stay away from lit fireworks
Don't throw fireworks or put them in your pocket
Sparklers should be lit one at a time and whilst wearing gloves
Booze and bonfires
According to a survey, at 90% of Bonfire Nights held in back gardens, people will be drinking alcohol, with 84% of people involved with setting off fireworks admitting to drinking 2-3 units. Not only does this result in an increased risk of personal injury, but it also renders them less capable of looking after any children present. If alcohol is going to be present at your event, make sure those who are drinking aren't setting off fireworks or tending to a bonfire, and are kept well away from both. It is also recommended that the amount of alcohol you make available at your party is kept to a minimum.
Make A Personal Injury Claim
If you feel that you may have cause to make any type of accident or injury claim for compensation, (including claiming compensation for burns injuries) then you should contact our team of experienced personal injury solicitors without delay, as time limits do apply in most cases. Either call us on the number above or use our quick and simple online injury claim form so that one of our team can come back to you to discuss your situation in confidence and advise accordingly.