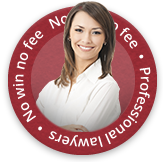 In any circumstances, the death of a baby is truly devastating. In cases where the death was a result of negligence or mismanagement of the birth, this is even more upsetting for the family involved.
At First Personal Injury, our solicitors are experienced in working with families following the tragic circumstances surrounding stillbirth and neonatal death. Pursuing a negligence claim can help to provide much-needed answers for you and your family and give you some breathing space during this extremely difficult time.
For a confidential, no-obligation conversation, please contact our specialist team on 0800 808 9740 or get in touch online.
Stillbirth and neonatal death
Stillbirth is the death of a baby before or during birth after 24 weeks of pregnancy. Tragically, 1 in every 225 births in the UK ends in stillbirth.
On the other hand, neonatal death is when a baby dies within the first 28 days of life.
Causes of stillbirth and neonatal death
Around 60% of stillbirths and neonatal are unexplained. However, there are other cases where action could have been taken to prevent the baby from dying.  The remaining 40% of cases are caused by reasons including:
Insufficient blood supply through the placenta
Umbilical cord problems
Placental abruption – when the placenta separates early from the uterus
Pre-eclampsia – a condition characterised by high blood pressure and protein in the urine of the mother
Infection
Gestational diabetes
Twins incorrectly diagnosed
Improper monitoring of the baby before or after birth
Poor resuscitation or an undiagnosed or untreated infection in the neonatal period
When these conditions occur, they are not always fatal. However, in some cases, stillbirth occurs because a medical professional misses symptoms or fail to treat the mother and baby correctly. When this happens, this is an example of medical negligence.
In instances where negligence has occurred, is important that parents are able to claim compensation for the suffering they have endured. Taking legal action can also help parents to find out what mistakes were made and why and help to bring them to a point of closure.
Stillbirth compensation claims
Stillbirth compensation claims can arise if medical professionals:
Miss symptoms or misinterpreted results
Fail to treat your symptoms correctly or soon enough
Failt to give patients regular check-up and tests
Fail to refer a patient to a consultant if their tests were unusual
Pursuing a compensation claim involves investigating the circumstances surrounding the stillbirth or neonatal death and holding the medical professionals accountable. By providing them with an explanation as to why they lost their child, a claim can bring parents a sense of closure and can help them to come to terms with what has happened.
Claiming for the effects of stillbirth or neonatal death
A stillbirth is a highly traumatic event that affects the entire family. It can have a long-term effect on the mental health of parents and lead to conditions including depression and post-traumatic stress syndrome (PTSD). A stillbirth compensation claim will consider the lasting psychological effects experienced by you and your family. Claiming compensation can help you to access the specialist services you might need such as therapy and counselling costs.
Your solicitor will also take into account the effect the stillbirth has had on you financially. Through a successful claim, you may able to recover the costs of:
Travelling to and from medical appointments
Childcare costs
Funeral costs
At First Personal Injury, we're here to support you
Our specialist team of sympathetic solicitors are ready to help you during this difficult time. To learn more about making a stillbirth compensation claim, please get in touch with us today on 0800 808 9740.