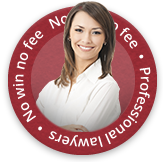 We are fully aware that making a compensation claim for a failed abortion is an incredibly difficult, stressful and confusing situation to be in. Our expert team of solicitors are here to walk you through the legal process as quickly and easily as possible.
Free initial discussion
If you believe that you have a claim please get in touch for a no-obligation discussion on 0800 808 9740 or contact us online.
What is failed abortion negligence?
The first seven weeks of pregnancy is the normal timeframe in which the difficult decision to abort is made. Most abortion procedures take place without issue, but occasionally problems do arise which can lead to injuries or a failed abortion.
The method of pregnancy termination largely depends on which stage the pregnancy is at. Both surgical and medical abortions are executed under a local anaesthetic.
Failed abortion negligence can include:
Lack of informed consent from a patient
Unwanted birth
Failure to identify failed or partial abortion
Failure to detect infection at a follow-up check
Injury being caused to the uterus or cervix
Who was responsible?
You are entitled to make a claim against anyone who, during the abortion process, you think has acted negligently towards you. They may be the physicians who advised or operated on you, the nurses who were directly or indirectly engaged in your aftercare and other medical experts. You may be able to lodge a claim against the doctor who conducted the unsuccessful abortion procedure.
How to claim
At First Personal Injury, our no win no fee lawyers are specialists in dealing with medical negligence claims, including failed abortions. We can help you to get primary compensation for any injuries and we can also assist you in recovering past or future losses. This may include loss of income, the cost of professional advice/treatment or the cost of therapy or prescriptions.
We understand that it can be difficult making a claim whilst dealing with the stress of a failed abortion. However, we are confident that we can help and usually operate on a no win, no fee basis to alleviate our clients of taking any financial risk.
If you would like to discuss a potential claim please call us on 0800 808 9740 or get in touch online via our website.