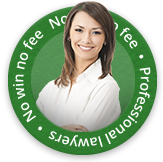 Claiming Compensation Following A Fall From Height At Work
If you have been involved in a fall from height at work and have suffered an injury, you may be able to make a personal injury claim.
Unfortunately, accidents involving people working at height are the most common type of fatality in the workplace. They are also one of the main causes of serious injuries at work.
Am I At Risk Of A Fall From Height?
In certain industries, including construction, building and engineering, there is a greater risk of employees falling.
Employers should always avoid the use of ladders where possible by finding alternatives, such as the use of platforms. If you believe there are fall from height risks in your working environment then you should report them to your employer as soon as you can.
Employer's Duty To Prevent Falls From Height

Very helpful, pleasant and highly recommendable. No improvement needed.
Brenda from Oldham
See more testimonials
All employers have a duty to protect employees in the workplace in terms of safety. Organisations where employees sometimes need to use ladders must make sure they are compliant with the Health and Safety Executive's Work From Height regulations 2005.
Employers must ensure there is the provision of correct and appropriate training for staff. They must also make sure that the correct risk assessments are undertaken and protective equipment is provided where necessary. If your employer has failed in its duty to ensure safety in the workplace and you have had an accident as a result, you might have a successful compensation claim.
Types Of Falls From Height Claims
Some of the common reasons for falling from a height at work are:
Lack of protective equipment e.g. harnesses or barriers
Falling down stairs or steps
Falling off ladders
Scaffolding that has not been correctly constructed
Unsafe surfaces like skylights or fragile roofs
Falls from machinery
Falls from any unguarded holes or drops
Claiming Compensation For A Fall From Height
A fall from height is likely to significantly impact your life. Some of the more serious effects of a fall from height include paralysis, spinal injury and a head injury. However, any kind of serious injury will have had a profound effect on your ability to enjoy life or work.
Your fall from height compensation claim will take into account your level of pain and whether you have endured a loss of earnings. Payments for medical expenses can also be compensated for in many personal injury cases.
Making Falls From Height Claims With First Personal Injury
At First Personal Injury lawyers we will help determine whether or not your employer has been negligent in their role of keeping you safe from harm in the workplace. If it is clear that they have neglected this duty, you could be able to make a personal injury claim.
Other Claims For Accidents In Work
Here at First Personal Injury, we deal with many different types of workplace accident claims. If you have been injured in a workplace incident other than a fall from height, please do not hesitate to get in touch as we may be able to help you with your potential claim.
Please get in touch with our friendly and helpful no win, no fee solicitors today to help assess the validity of your claim. Call us on 0800 808 9740 or complete our online claim form.