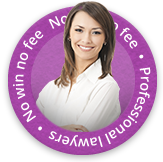 Helping With Serious Injury Claims For Over 20 Years
With over 20 years of experience, our team has the legal expertise to advise and help in bringing serious injury claims to as satisfactory a conclusion as possible, given the circumstances.  We also have also the skills and sensitivity needed to deal with clients and their loved ones at what is a very difficult time.
Serious injury claims often follow devastating accidents that have happened through no fault of the victim. No matter what the nature of your accident or illness is, if you have suffered a serious injury then you and your family are likely to be facing a difficult period of time.
Serious and Catastrophic Injury Claim Types
Your serious injury may have occurred while you were working from height at work, when you were involved in a serious head-on collision or while you were receiving substandard medical treatment.
There is no comprehensive and exhaustive list of serious injuries as there are so many different ways in which you can sustain an injury or illness. Below are some of the more common kinds of injuries which are often classed as serious or catastrophic.
---
Serious Injuries: How Can Our Team Help You Claim Compensation?
Making a serious injury accident claim is made simpler if you choose to work with a personal injury firm that is experienced in dealing with these kinds of injuries. Our lawyers at First Personal Injury have helped individuals with a variety of serious injury claims for many years. We understand that the decision to pursue compensation as well as dealing with the everyday consequences of your injury can seem like a daunting prospect.
We appreciate the difficult emotional and physical circumstances you are in and the impact this may be having on you and your family. Our team will do everything we can to handle your claim in the most straightforward way while ensuring that you receive the maximum compensation you are entitled to.
At First Personal Injury we will first of all listen to the circumstances surrounding your possible claim and establish what your specific medical needs are. We will then be able to give you a more accurate idea of the level of compensation you can expect to receive.
To take the first steps in claiming compensation, please get in touch with a member of our team today. Call us on 0800 808 9740 or complete one of our online claim forms to discuss your circumstances in confidence.
---