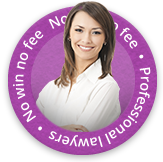 Fibromyalgia is a chronic pain condition that can affect the entire body and have a serious impact on an individual's day-to-day life. If you are suffering from fibromyalgia following an accident or injury that wasn't your fault, you may be able to claim compensation.
At First Personal Injury, our expert solicitors are on-hand to assess your potential fibromyalgia personal injury claim. Get in touch with us today on 0800 808 9740 or make an enquiry online to request a call with a member of our team.
What is fibromyalgia?
Fibromyalgia is a debilitating musculoskeletal pain condition that leaves sufferers in near constant pain or discomfort. It can have a lifelong impact, causing pain all over the body, from the neck to lower back and knees. Symptoms can be so bad that they prevent individuals from carrying out even the simplest of day-to-day tasks.
Fibromyalgia is notoriously difficult to diagnose, with many fibromyalgia sufferers having their symptoms mistaken for whiplash and soft tissue injuries, particularly following an accident.
Fibromyalgia symptoms
Fibromyalgia is primarily characterised by chronic pain in the muscles, tendons, ligament and other soft tissue areas. The severe pain causes distinct areas of tenderness in specific locations, known as pressure points. Some individuals also suffer numbness along with bowel and bladder issues.
It can be extremely difficult for fibromyalgia sufferers to sit or stand or long periods of time which can make it difficult for sufferers to continue to lead a normal life.
In addition to the physical effects of fibromyalgia, sufferers commonly experience secondary psychological symptoms. These can include:
depression,
cognitive deficits (e.g. in memory and concentration)
chronic fatigue
disturbed sleep
mood swings
Causes of fibromyalgia
In some cases, fibromyalgia develops spontaneously and it is difficult to determine the exact cause of the condition. However, in others, fibromyalgia can be caused by a physical trauma or a sudden forceful injury suffered in an accident.
It is most commonly caused by whiplash injuries sustained in a car accident, in a fall or due to an individual being hit by a falling object. In these instances, the condition is known as post-traumatic fibromyalgia.
Fibromyalgia can also be caused by some viral infections or triggered by emotional or physical abuse.
Claiming for fibromyalgia
Many people currently living with fibromyalgia have suffered a traumatic event that wasn't their fault and are left with life-altering effects.
If you have fibromyalgia following such an event or injury, you might be entitled to make a fibromyalgia personal injury claim. You might also be able to claim if you were already suffering from the condition, but an accident or injury has made your symptoms worse.
If you wish to make a claim for fibromyalgia as a result of someone else's negligence, working with a solicitor with experience in this area is essential.
Assessing your claim
In a valid fibromyalgia claim, there has to be continuity of pain from the accident which is shown to have evolved from the whiplash injury. Usually, to make a successful claim, you must be able to demonstrate that your fibromyalgia symptoms have been caused by your initial injury suffered in your accident.
Once it has been determined that you have a valid claim, your solicitor will work hard to collect evidence to strengthen your claim. This evidence usually includes a medical report from a relevant expert, witness evidence and the client's GP records.
To help prove that this has been the case, your solicitor will obtain a medical report from a relevant medical expert, detailing your symptoms and giving you their prognosis.
How much compensation for fibromyalgia claims?
Compensation claims related to fibromyalgia are often significant in value because of the debilitating and long-term nature of the condition. Clients generally require considerable care and assistance which generates large care claims. Claims for fibromyalgia can provide compensation not only for your pain and suffering but for any financial losses you've experienced as a result of your condition.
While some individuals with fibromyalgia are able to continue working, they might only able to work part-time or in a less demanding job. What's more, individuals usually require time off work to attend medical appointments which can be disruptive to their employment. In many cases, however, sufferers are unable to work altogether. This can lead to a large loss of earning claim.
As part of a compensation claim for fibromyalgia, you will be able to recover any loss of earnings as well as other financial losses you've experienced as a result of your condition. These losses might include things like:
medical expenses
the cost of prescriptions
travel expenses
specialist treatments like cognitive behaviour therapy (CBT) or physiotherapy
Make a fibromyalgia claim with First Personal Injury
If you have been diagnosed with fibromyalgia after an accident that wasn't your fault, you may be entitled to fibromyalgia compensation. Get in touch with our team on 0800 808 9740 or contact us online to arrange a call-back at a time that suits you.