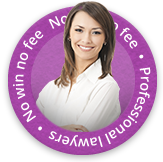 Chronic Pain Injury is a condition that affects millions of people in the UK. It can also be referred to as Complex Regional Pain Syndrome (CPRS).
If your condition has resulted from an accident that wasn't your fault or from medical negligence, you might be able to claim chronic pain injury compensation.
Our experienced personal injury solicitors are on-hand to assist you with your claim. Call us today on 0800 808 9740 to speak to one of our specialists or get in touch online to arrange a call-back at a more convenient time.
What Is Chronic Pain Injury?
The condition is characterised in the medical field by a significant pain lasting more than 6 months or a pain which goes beyond what would be a 'normal' period of healing for a given condition. There is often no definite cause related to it and medical research continues.
The pain can be experienced as a general all over feeling while others say the pain is more specific to a certain area of the body. Equally, some pain can be constant while others can be intermittent.

I have today received the cheque for £11,500 for which together with the other monies obtained by you on my behalf I shall be eternally grateful. Please accept my sincere thanks for all you have achieved for me in what has been a very trying time. You have taken a lot of the stress out of what has been very stressful for me by your very professional approach. Best regards to you for the future and our heartfelt thanks.
Anonymous from
See more testimonials
Patients can develop unexplained pain which could have started with a minor injury like a strain or torn muscle. If you suffer from Chronic Pain Injury then it could mean you have suffered as the result of someone else's negligent behaviour, in which case it's possible you could make a chronic pain injury claim.
Symptoms Of Chronic Pain Injury
One of the most frustrating and difficult aspects of the condition is that it can be misunderstood by some professionals including some medics. This sometimes causing further stress and anxiety for victims and the people around them.
Some of the symptoms involved can be confusing and unexpected and not every case is the same. Some of the problems below can feature in many chronic pain injury claims:
Psychological disorders
Depression
Anxiety and stress
Anger problems
Treatment for Chronic Pain Injury can include either physiotherapy or psychotherapy, sometimes both. On some occasions, it is necessary to seek the assistance of a pain management specialist.
Individuals can suffer from chronic pain in various different forms including:
Central pain syndrome
Neuropathic pain
Chronic fatigue syndrome
Ankylosing spondylitis
Somatic symptom disorder
Helping You With Your Chronic Pain Injury Claim
As chronic pain injury can be a complex condition to deal with it is advisable to seek the assistance of an experienced personal injury lawyer.
First Personal Injury has experience in helping clients with numerous conditions and illnesses and we can also work with you on your chronic pain injury claim. Please get in touch with our team to discuss your details further. Call 0800 808 9740 make an online enquiry.
Making Personal Injury Claims
If you've had a personal injury, you may be entitled to compensation. The solicitors at First Personal Injury are on hand to assist you and help you win the compensation you're entitled to.
At First Personal Injury, we work with individuals and families across England and Wales, helping them to make claim compensation following an accident or injury. Contact our specialist team today on 0800 808 9740 or complete our online form to request a call-back.