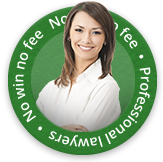 Accidents arising from slips, trips and falls are often perceived as trivial, and an example of the "compensation culture."
In reality, a high proportion of such accidents involve serious injury. Health and safety executives estimate that 95% of major slips result in broken bones.
All public and private organisations owe a duty of care to ensure all visitors to premises are safe. Local Authorities are also under a duty to ensure that pavements and public highways are in a safe condition for public use.
Slips, Trips and Falls Claims Examples
Examples of slips, trips and falls claims that have been successfully pursued include those where people have:

I am delighted with the outcome of my claim and can't thank you enough for all the hard work that you put in. Everything went so smoothly and all I had to do was sign some papers and everything was taken care of. Anytime I had any concerns I knew I could call and my mind was always put at rest. You can never know how much this means to me and I am so grateful. If anything ever happened to me again then I would come straight to you.
L Smith from Lincoln
See more testimonials
Other examples include:
Severe injuries to the elderly caused by slipping or tripping on defective pavements
Injuries to children caused by defective utility grids
Injuries caused by slipping on wet floors in supermarkets, hospitals, and schools
Children injured in playgrounds and sports centres
Claims by council tenants for ill health caused by housing disrepair and defective premises
Injuries to cyclists, motorcyclists and motorists caused by potholes in roads.
Very often the injuries sustained in such accidents have adverse consequences for life.
---
Had A Slip, Trip or Fall That Wasn't Your Fault?
If you have had an accident which occurred as a result of a slip trip fall and it was not your fault, in the past 3 years, you could be entitled to personal injury compensation.
Contact our team of injury lawyers today to find out about making a claim. Call First Personal Injury today on 0800 808 9740 or by complete our online injury claim form.
---