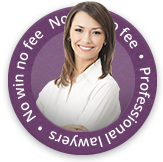 A herniated disc is also known as a prolapsed disc or a slipped disc. The condition occurs predominantly in the lumbar region of the back between spinal vertebrae and can be very painful.
Compensation amounts for herniated discs run parallel to the level of severity of an injury. The impact the injury has had on your ability to work, enjoy life and whether or not you have had to pay for any medical expenses will also be considered when calculating how much compensation for a herniated disc.

Lifting injuries and trauma are the two main kinds of accident or injury leading to a herniated disc. Lifting injuries can often come about because of an accident at work and trauma injuries can be as a result of an assault. In either case, you will be able to make a personal injury claim if the accident was the fault of a third party and negligence on their behalf can be proven.
Compensation Amounts For Herniated Disc Injuries
The guide below is aimed to give you an indication of how much compensation for a herniated disc. The settlement fee in any personal injury case is reliant upon the degree of the injury and what impact there has been on your ability to carry on with your everyday life.
If you have suffered a prolapsed invertebral disc with the need for surgery or if you have damaged an invertebral disc with nerve root irritation which has resulted in reduced mobility then the compensation bracket you can expect is from £19,850 up to £27,700
If your prolapsed or herniated disc requires laminectomy or has become a recurring condition then compensation amounts could be around £8,900 and £19,850
Disc lesions or fractures can see some claimants receiving from £27,700 up to £49,800. These cases are usually severe and have seen patients experience extreme pain with impaired mobility, sexual function and psychological damage
For minor disc prolapses, compensation amounts will vary from approximately £5,600 up to £8,900
How To Make A Claim For A Slipped Disc
Most herniated discs will heal within a matter of weeks but some can be very debilitating and may require surgery.
The success of your injury or accident claim will be helped if you are able to show accident or police reports relating to your injury. Firstly, you will need to speak to an accident injury lawyer who will help you with the claims process. Please call the team at First Personal Injury on 0800 808 9840 and we can discuss your herniated disc claim in more detail. Alternatively, get in touch online to request a callback.