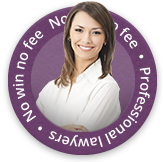 If you have broken your ribs as a result of an accident that wasn't your fault you may be able to make a claim for personal injury compensation.
Claims For Broken Ribs
You could potentially break your ribs in any number of accidents including road traffic accidents, accidents at work or slips or trips on the road or a place of business.
The first thing you should do if you have suffered injury is to seek medical help. A doctor will be able to assess the state of your injuries, which will prove valuable to your claim.
Making A Claim
In order to make a claim for your injuries, you should seek the help of an experienced team of solicitors. Having provided them with full details of your injuries and how the accident occurred they will then advise you on the prospects of succeeding with your claim.
If they take your case on, they will represent you and advise you on all aspects of your claim including the potential amounts of compensation.
Potential Levels Of Compensation
The following is simply a guide to the potential levels of compensation you may receive for rib injuries:
Further Compensation
If you have suffered other losses as a result of your accident, these can also be included within your claim in addition to your claim for personal injury. This may include loss of earnings, medical care, help in the home or travel costs. If your injury results in long-term disability requiring future care and assistance, the cost for this will also be considered.
| | |
| --- | --- |
| Level of broken rib injury | Potential compensation |
| Minor fractures/ soft tissue injuries resulting in serious pain and disability over a period of weeks. | Up to £2,600 |
| More complicated fractures causing an impact on the functioning of the lungs (including collapsed lungs) but from which a full recovery is made | £1,450 – £3,500 |
| More traumatic injuries to the chest. Compensation will depend on the level of damage and whether injuries are permanent or cause some form of disability. | £3,500 – £66,000 |
Personal Injury Claims
If you've had a personal injury you may be entitled to compensation. First Personal Injury solicitors will help assist your prospective claim and help further win your compensation if you're entitled to it.
Contact First Personal injury today by ringing 0800 808 9740 or by making a claim online.