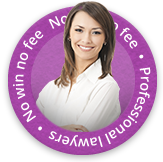 At First Personal Injury, our serious injury solicitors have helped individuals and their families with claims involving spinal cord injuries for many years.
We understand what you are going through and the difficulties you and your loved ones might be facing, so we are perfectly placed to help you.
To learn more about the spinal cord injury compensation claims process, call us today on 0800 808 9740 or get in touch online.
Claiming For A Spinal Injury
There are many different elements involved in spinal cord injury (SCI) cases due to the complexity of the injury and the scope of possible causes.
Spinal cord injuries involve an injury to the spine which has been caused by trauma. Often, spinal cord injuries are caused in road traffic accidents, accidents at work, falls from height or medical negligence.
In some cases, there can be low levels of pain involved, while in others there can be complete paralysis. 'Complete' paralysis means a total loss of function below the area of injury and is usually caused by damage across the entire width of the spinal cord. On the other hand, 'incomplete' is a term used to describe a loss of a certain different level of physical function below the area of injury. Incomplete paralysis is caused by damage across only part of the spinal cord.
The consequences of a spinal cord or spinal injury can mean that some victims experience paralysis which could be in a part or the whole of their body. In many cases, it is likely there will be serious and lifelong effects for victims and their families.
Am I At Risk Of A Spinal Injury?
Almost everyone has a risk of suffering a spinal injury on some level. If you are a driver, passenger or pedestrian involved in a car accident; if you are taking part in sports, particularly contact sports; if you have fallen from a height at home or in the workplace then you risk is increased.
Whatever the reason for your spinal injury, if the accident was not your fault, then you could be entitled to make a compensation claim.
What Is Considered In My Spinal Injury Claim
Often, spinal injury claims can result in high compensation settlement figures because of the severe and detrimental physical impact that these injuries can have. If you or your loved one has been unable to work because of spinal injury, your loss or earnings will be factored into your claim. We will also be able to consider any future loss of earnings.

Excellent service. Thank you all. I'm really glad I chose you to handle my case.
Mrs W from Reading, Berkshire
See more testimonials
The level of pain you have suffered and loss of amenity you have experienced will also be considered along with any medical expenses you have had to pay for. In all personal injury compensation cases, third-party blame must be demonstrated clearly in order for it to be successful.
Interim payments for spinal cord injury claims
In many spinal injury claims, our solicitors will be able to secure interim payments and rehabilitation at the earliest opportunity. This will ensure that your immediate financial and rehabilitative needs are met before the final settlement of your claim.
Rehabilitation
Rehabilitation is essential in making sure you or your loved one are able to make the best recovery. As part of your settlement package, we can help you access the specialist rehabilitation and care you require.
Claiming Compensation For Spinal Cord and Spinal Injuries
First Personal Injury is a team of no win no fee solicitors who are experienced in handling spinal injury claims. We endeavour to get the best results possible for our clients by working hard on your behalf. Please call us today on 0800 808 9740 if you would like to know more about claiming compensation for a spinal cord injury or get in touch online.