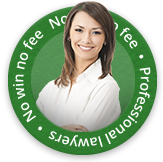 As life expectancy increases, more and more of us will rely on care home facilities to provide assistance later in life. While care homes should be safe places, sadly, accidents do occur which can lead to injury for residents and, in some cases, staff.
If you or a loved one have been injured in a care home, you may be able to make a care home injury claim for compensation.
To find out whether you're entitled to care home accident compensation, contact our specialist solicitors on 0800 808 9740.
Alternatively, get in touch with us online to arrange a call back at a convenient time for you.
Accidents in care homes that can lead to care home injury claims
Individuals living in nursing homes are often vulnerable as they require more support and assistance than that can be provided by a carer at home. Because of this, patients are already more at risk of accidents. However, sometimes this risk is exacerbated and injury can occur because of the negligence of another person or of the care home itself.
Common care home accidents and injuries
There are a number of accidents and injuries that can occur in nursing homes and care homes. Some of the more common accidents are outlined below.
·         Slips, trips and falls
Brittle bones and other age-related issues mean that when older people slip or fall, the consequences of their injuries can often be serious.
Slips, trips and falls in care homes can happen for a number of reasons. They are often caused by slippery floors or misplaced objects. However, falls can also occur when an individual attempts to get out of bed or stand up from a chair without assistance from a member of staff.
·         Accidents that occur as a result of a lack of mobility aids
If patients or residents aren't provided with walking frames or wheelchairs, they are vulnerable to injuries caused by falls.
·         Pressure sores and ulcers
Pressure sores develop where a person's skin is in contact with a bed for a long period of time. They are often very painful and can sometimes lead to infection.
Pressure sores can be caused by inadequate mattresses, a lack of necessary equipment or proper turning regime. Because of the pain they can cause, care home staff should aim to prevent pressure sores as much as possible. If you or a family member have experienced pressure sores in a care home, you may be entitled to pressure sore compensation.
·         Prescription or medication errors
Prescription or medication errors can also occur in nursing homes. Some patients don't know the correct medication or dosage they need. These individuals rely on care home staff to ensure they take the right medicines. If care home staff give the wrong medication or dose, this can have serious consequences.
·         Injuries caused by careless handling when transferring residents between beds, chairs etc.
Incorrect lifting can sometimes cause injury. Care home staff should be properly trained to lift and transfer patients safely. If management do not provide proper training and someone is injured, the care home may be found liable for the incident.
Accidents suffered by care home staff
Unfortunately, ever-growing demands on care home staff mean that they too are at greater risk of accident or injury.
Staff in care homes may sustain an injury in a variety of incidents which involve them:
Helping patients out of toilets and showers
Tripping and falling down stairs or over obstructions
Lifting and moving patients from beds and seats.
Care homes have a duty of care to their employees. They should make sure that staff are given sufficient training, have the necessary equipment and are protected from potential hazards.
Those working in care homes are vulnerable to injury or accidents at work if appropriate systems are not in place. For example, if an accident occurs because there were fewer than the allocated number of staff required present, the care home management could be found liable for any injury sustained by an employee (or resident).
A care home employee may also be able to make a compensation claim if they have not been properly trained.
Making a claim for care home compensation
Making a claim holds the people responsible for the care home accident or injury to account. What's more, doing so could help to prevent similar incidents taking place in future. Compensation can also help you and your family cover the costs associated with your accident or injury. These costs might include loss of earnings (if you have taken time off work to care for a relative), prescription costs or travel expenses.
Start your care home injury claim today with First Personal Injury
Whether you have been injured yourself in a care home or would like to make a claim on behalf of a loved one, our experienced team of personal injury lawyers are ready to help you.
Contact us today on 0800 808 9740 or get in touch online to arrange a no-obligation, initial discussion about your potential care home injury claim.